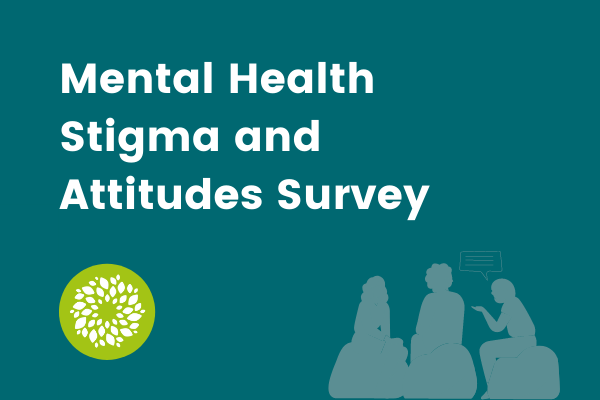 Nearly half of Irish adults have been treated for a mental health difficulty in 2021, as found in the annual Attitudes to Mental Health and Stigma Survey here at St Patrick's Mental Health Services (SPMHS).
The survey results reinforce the effects of the COVID-19 pandemic on the nation's mental health, with a reported rise of 6% since 2020 and 16% since 2019 in the number of people receiving mental healthcare.
A nationally representative sample of nearly 850 adults were polled for the survey, which was carried out by Amárach Research on behalf of SPMHS between 30 June and 7 July 2021.
Increase in mental health concerns
have had someone disclose to them that they have, or have had, a mental health difficulty
are afraid of experiencing mental health difficulties themselves in the future
are concerned about theirs, or a family member's, mental health due to the pandemic
One quarter of people who responded to the survey are experiencing mental health difficulties for the first time since the onset of the pandemic, while 43% noted that they themselves, or a family member, have sought mental health treatment or support during this time.
The survey also shows that 87% of Irish adults believe there is a worrying prevalence of anxiety in Irish society, a significant increase of 10% in just two years.
Despite the high numbers of people reporting concerns and seeking support, 66% believe that being treated for a mental health difficulty is still seen by Irish society as a sign of personal failure, and 16% would consider it a sign of weakness if they sought help for a mental health difficulty during the ongoing pandemic. These figures highlight the need for a sustained approach to tackling mental health stigma in Ireland.





Resilience and adaptability of Irish people
While the findings reveal the mental health implications of the global pandemic, they also highlight Irish people's resilience and ability to find new opportunities for mentally healthy living in the face of unprecedented challenges.
believe Irish society is more open to talking about mental health issues since the onset of the pandemic
have introduced new ways to support their mental health and wellbeing since the pandemic began
would tell someone if they were experiencing a mental health difficulty
Ongoing need for support
Speaking of the significance of this year's survey results, Paul Gilligan, Chief Executive, St Patrick's Mental Health Services said: "The results from our annual behaviour and attitudes survey have shown the effects of the pandemic on mental health have been far-reaching, with impacts on all age cohorts. Positively, however, 43% of respondents have sought, or know someone who has, sought mental health support during this time, demonstrating a willingness to overlook stigma and seek vital support when needed.
Despite the many challenges brought on by COVID-19, this year's findings also demonstrate the incredible resilience of Irish society and their readiness to look on the positive side of what has been an especially difficult 18 months. From the results, we can see that the Irish population has also recognised the opportunities that COVID-19 has created including increased workplace flexibility, opportunities to reflect on values and priorities and being able to speak more openly about mental health."
"It is important that we support those with mental health difficulties in the aftermath of the pandemic, and leverage the many opportunities the pandemic has presented to create a more mentally healthy society."
Improving attitudes
First introduced in 2015, year-on-year comparisons of the annual survey results show that, while progress on attitudes to mental health in Ireland is slow, there are improvements being made.
57% believe Irish people would treat someone with a mental health difficulty the same as anyone else, a significant growth from just 28% in 2015.
68% now think Irish people would accept someone with a mental health problem as a close friend, a rise from 58% in 2017.
77% believe that someone who experiences panic attacks could be head of a company, compared to 59% in 2017.
61% would be okay explaining to their boss that they needed time off due to a mental health difficulty, compared to 59% in 2017.
For more information, you can download the full list of findings below.