St Patrick's Mental Health Services provide a range of day programmes aimed at those who are recently discharged from hospital or who require skills and techniques to deal with the mental health concerns unique to them.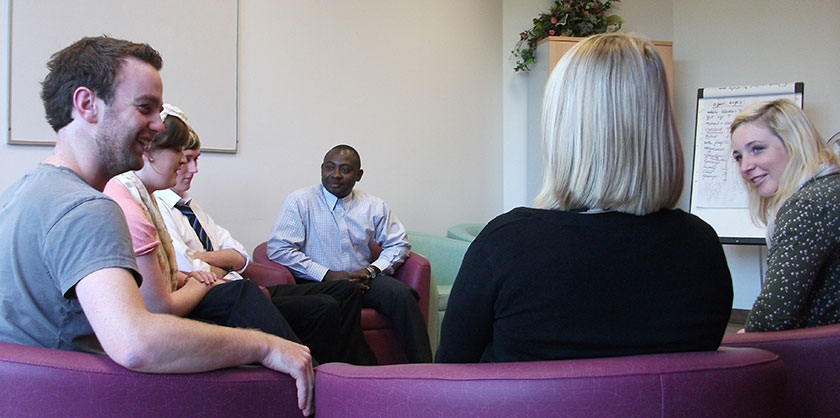 Through our Wellness and Recovery Centre/day services at both St Patrick's and St Patrick's, Lucan, we offer a variety of day programme options. All programmes are undertaken on a group basis and vary in duration, from one week to 16 weeks. Each session is run on a half-day or full day basis. As part of this service we also offer a cognitive behavioural programme for concerned family members or significant others living with addiction.
Any inpatient or anyone attending a Dean Clinic or Associate Dean consultant can be referred to specified programmes or individual therapies within the Wellness and Recovery Centre.
Following referral by a GP, some non-inpatient services can be accessed without the need to be under the care of a St Patrick's Mental Health Services' consultant psychiatrist.  These services include: 
Some programmes begin while in hospital and some are dedicated day-only programmes. All programmes require a referral form from your team or health professional.
Once you are referred to a programme:

You will receive a letter confirming receipt of your referral and information on who to contact with any queries. If you are an inpatient at the time of referral, this will happen post-discharge
Your insurance eligibility will be confirmed (this takes up to three days). Programme costs are covered by most health insurers (except ESB, Garda and Prison Officers' Scheme. Some insurance companies (Glo and Aviva) require an excess payment per attendance on some of their policies. We will inform you if either of these cases apply to you.
Our programme coordinator will contact you with an appointment for assessment or a start date.
Before beginning your programme, please register with our day services administrator at the main reception. The registration process is relatively quick and requires you to sign an electronic pad.

To get more information

Talk to your key worker or any member of your multi-disciplinary team.
Visit the Information Centre which is located in the main reception area of St Patrick's University Hospital.

Day service programmes primarily take place at St Patrick's University Hospital but programmes are delivered throughout St Patrick's and St Patrick's, Lucan campuses.

Some of our programmes are linked to a specific mental health diagnosis and others are based on the need to develop tools and coping strategies linked with experiencing mental health difficulties