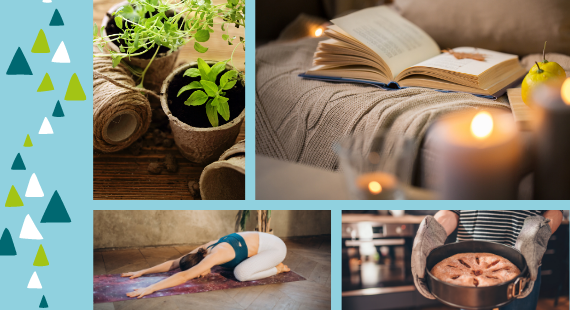 27 October is World Occupational Therapy Day. Occupational therapists support us to recover, improve our wellbeing, and grow in ourselves by enhancing how we engage in meaningful activities everyday. To mark the day and celebrate occupational therapists, Méabh de Faoite of our Occupational Therapy Department shares some advice on minding our wellbeing during this winter's COVID-19 restrictions.
Adapting to challenges
You may feel like the arrival of COVID-19 has pushed your mental and physical health to their limits this year. With the approaching winter months and transition to further restrictions, you may be feeling more concerned, stressed and anxious than usual. Thoughts like "how will I get through this again?" are filling our minds daily.
You are not alone. Take a moment, take a deep breath and say, "this too shall pass".
Occupational therapists are health professionals who support the health and wellbeing of people at all life stages. We have a broad understanding of the word "occupation", using it to describe everything that people need to do (like looking after themselves), want to do (like hobbies) or are expected to do (like going to work or college).
Occupational therapists have great insight into mental health and the impact that environmental challenges can have on one's daily life. We recognise that, since the arrival of coronavirus, many of us have lost our usual routines and opportunities to engage in activities that previously helped us to manage our mental health and wellbeing.
For now, we must adapt some of our occupations to fit with current COVID-19 guidelines. Don't lose faith; it can be done.
Nurturing ourselves through these times
The guide below will provide you with some practical tips and advice on how to maintain wellbeing at this time.
Focusing on what we can control
Living with COVID-19 restrictions is a struggle right now, but it is important not to allow it to overwhelm you; focus on things you can control.
Remember to nurture and acknowledge your own ability to manage this challenging time, because this too shall pass.