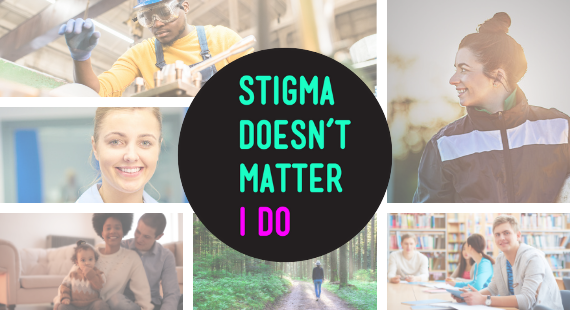 Jude McCarthy of our Service User Advisory Network (SUAN) feels that stigma around mental health – both from within herself and in society – almost prevented her getting the support she needed. On World Mental Health Day, we share a piece written by Jude in which she tells us why now she thinks it's imperative to speak about mental ill-health stigma.
I am here today because I was lucky enough to get the help I needed.
I am thankful every single day for the treatment and kindness I received from St Patrick's Mental Health Services (SPMHS) and can say with confidence from my own experience that I almost missed the help I needed for one very simple and dangerous reason: stigma.
For this reason, through my lived experience, I feel stigma is something I am qualified to speak about.
Going through my mental health journey
I was diagnosed with post-natal depression when my son was two years old. It had snuck up on me: it started as 'worry', a niggling feeling I had felt many times before.
When it became a much larger monster than worry, I believed that it was part of being a new mother at the age of 36. When the anxiety prevented me from functioning, I went to a counsellor and was immediately diagnosed with severe anxiety, which very quickly spiralled into the deepest depression.
It took a good two years for me to get back to the person I knew as me, and, once I got there, I remained extremely vigilant of my mental health, attending counselling on and off to monitor my mood. I eventually accepted that I would be on anti-depressants for the long-term; several doctor-aided attempts to come off them had failed drastically and I ultimately decided that being well and present for my son was more important than 'not' being on medication. If I had had a heart condition, I would have taken the medication without query or question.
With therapy and hindsight, I was eventually to learn that this was not my first rodeo; I could see that depression and anxiety had been part and parcel of my life from my late teens. I just didn't know what it was: I thought it was my odd personality that was happy as a lark and could take on the world, and then was full of self-doubt, self-hatred and, to my mind, was someone else entirely. At 46, seven years after my first major episode, all of this would eventually become clear.
As I felt myself going downward, I swore that I would not let this get me again. I would beat it by doing what I had been doing for years: taking my meds, going to counselling, putting my head down and getting on with it. I threw myself into work and, ironically, did some of my best work ever. After work, I would come home and sleep, sleep, sleep. All I could do was sleep: I was exhausted, both mentally and physically. Eventually, I rang my doctor and agreed to see a psychiatrist, as he had recommended who knows how many times, but I had not been willing to hear - because of stigma.
And so it was, I spent my 46th birthday in St Patrick's, Lucan (St Edmundsbury). I got there in time.
Realising the impact of prejudice
I am passionate about SPMHS's #NoStigma campaign and feel privileged to be involved as I can now admit that it was self-stigma and the inability to accept my illness that prevented me getting extra help when I desperately needed it most.
On leaving hospital, I wanted to give something back. I wanted to somehow let people know that there was more help out there, so I joined SUAN and became involved in the #NoStigma campaign. At its focus groups, I heard firsthand from people who had been experiencing mental health illnesses for decades longer than me and who had been subject to discrimination and prejudice in a far crueller and more uneducated Ireland than today.
My landscape was very different to many of the amazing trailblazers I met in SPMHS. I had never faced discrimination as a child or young person for having a mental illness and now, as a self-employed adult who has accepted their illness and what comes with it, I was not afraid to speak out. I did not have to fear the response of my bosses or my employees; I did not have to face whispering in the canteen or at the water cooler. I was free to speak out, and that is what I have done.
This is not because I have an interesting story or because I am any more articulate or brave than anyone else; it is because I am in the privileged position that I can. I have been lucky enough to have had access to brilliant therapy over the years, which has left me in a position where I don't care what people think of me, if I am judged, or if people whisper behind my back. I don't care because I have learned enough and seen enough to know that they are wrong.
Speaking out against stigma
Anyone who has suffered with an illness, mental or otherwise, knows what it takes to keep going on through those bad days. They also know how difficult it is to accept that, some days, you just have to take care of yourself and rest, breathe, say no to something or even put yourself first! Resilience is our calling card; it is the calling card of anyone going through any type of illness.
So, it is for all these amazing people that I stand to talk about my experience with stigma, self and otherwise. It is for the teacher who stands in front of hundreds of children a day who doesn't feel able to admit an illness, as it is still seen as 'weak'. It is for the Chief Executive Officer who dares not mention a condition that they fear may lose them respect. It is for the Garda, the nurse, the accountant, the administration assistant, the engineer, the plumber, the carpenter, the comedian, the personal assistant, the lecturer, the care worker – all the people who form the rich tapestry that is everyday life who feel they have to hide, have to work when they need to stop, or have to act ok, when they are not.
So, for those of us who can, let's talk about stigma.
Let's educate, inform and remove fear, and let us do it for all of those who have so much to say and so much to offer, but who cannot do so for a whole host of reasons that are still part of the stigma associated with mental ill-health in Ireland. Let's do it for Irish society and for a better future for everyone.