Willow Grove Adolescent Unit is a 16-bed inpatient facility catering for young people between the ages of 12 and 17 years who are experiencing mental health difficulties.
In accordance with national and international best practice and the regulations and Code of Practice of the Mental Health Commission, Willow Grove is completely separate and distinct from adult units in St Patrick's University Hospital.
What we treat

The aim of the team at Willow Grove is to help young people manage their thoughts, feelings or behaviours so that they can cope better with everyday difficulties.

These difficulties may take the form of;

mood disorders such as depression
anxiety disorders such as anxiety or obsessions
or just finding the experience of day to day living hard.

We are a national service and accept referrals from Child and Adolescent Mental Health Services (CAMHS) teams and GPs.

​

Our team

Our team consists of child and adolescent psychiatrists and mental health nurses working with clinical psychologists, cognitive behavioural therapists, social worker/family therapist, occupational therapist, advanced nurse practitioner/psychotherapist, dietician and teaching staff.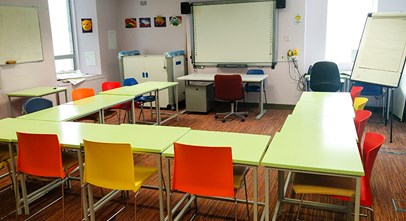 Classroom
The young people attending Willow Grove Adolescent Unit have regular access to teaching staff during the academic year that facilitate learning both on an individual and group basis.
Take a tour of Willow Grove Inpatient Adolescent Unit