Our organisational strategy for 2023 to 2027 stays true to our founding principles, while committing us to developing new services and promoting mental health awareness.
At St Patrick's Mental Health Services (SPMHS), The Future in Mind is our strategic plan for 2023 to 2027.
This strategy is underpinned by a human-rights based and recovery-focused ethos. It commits us to continuing to provide access to the highest quality mental healthcare to as many people as possible who experience mental health difficulties and require our services. We also commit to promoting mentally healthy living and to strengthening understanding and awareness of mental health difficulties.
The strategy was developed in consultation with service users, staff, our Board of Governors and other key stakeholders.
Our role
We are Ireland's largest independent, not-for-profit mental health service. We provide inpatient care and Homecare through our three approved centres (St Patrick's University Hospital, St Patrick's Hospital Lucan and Willow Grove Adolescent Unit), as well as day programmes, and community care through our Dean Clinic network.
We engage in four key areas of activity:
Service delivery
Advocacy and education
Research and training
Service user participation.
Due to our independent status; our multiple locations offering national accessibility; our range of high quality in-person and remote services; and our commitment to service user participation, research and advocacy, we are uniquely placed to monitor, evaluate and respond appropriately to the ever-changing landscape of mental health within Ireland.
Our vision and mission
"Vision is the art of seeing the invisible."
Our vision is for a society where all citizens are empowered and given the opportunity to live mentally healthy lives.
We aim to provide the highest quality mental healthcare; to promote mental healthy living and mental health awareness; to advocate for the rights of those experiencing mental health difficulties; to support the investigation into, and the enhancement of, evidence-based knowledge; and to develop the competencies of those committing to work in mental health and the organisations providing mental healthcare. 
Our objectives for 2023 to 2027
We have committed to the following key objectives for the 2023 to 2027 period.
Mental healthcare | To provide the highest quality support and treatment to people experiencing mental health difficulties.
Partnership with service users | To involve service users as equal partners in the planning, management and evaluation of the treatment and support they receive within SPMHS.
Research | To enhance our evidence-based understanding of mental health difficulties, and their treatment, through research.
Training | To support staff and organisations working in mental health to maintain and improve their skills and develop new competencies.
Human rights advocacy | To ensure mental healthcare, prevention strategies and promotion efforts for children and adults in Ireland are grounded in human rights and adhere to key human rights conventions.
Education | To educate and empower more people to live a mentally healthy life by promoting greater public understanding and awareness of mental health and reducing stigma.
Critical issues
We recognise what is happening in Ireland and the critical issues that we face in the mental healthcare sector - not only at an organisational level, but as a society, as a European country, and as part of a globally connected world.
National issues
The availability of mental healthcare services, long waiting lists, and lack of funding and resources remain a challenge.
The quality of mental healthcare in Ireland is inconsistent, with many services not compliant with the statutory quality standards set by the Mental Health Commission.
Stigma around mental health is negatively impacting society and preventing people from seeking support.
Recruitment and retention of staff in mental health services has become more challenging.
Global issues
Geopolitical uncertainty, such as wealth inequality, war, immigration and political discrimination, affects all of our daily lives.
The COVID-19 pandemic has impacted people's mental health, with long-term effects yet to truly emerge.
The uncertainty of climate change and its impact are a source of anxiety for many; those experiencing mental health difficulties may be particularly at risk.
Digital literacy and skills deficits need to be addressed so that everyone who would benefit from digital technologies in mental healthcare can have equal access.
Our strategic developments for 2023 to 2027
To achieve our objectives, we are committing to a number of key developments.
You can see these in the document here, or keep scrolling to read more.
Expanding and enhancing our services
We will use in-person, remote and hybrid care models to enhance and expand our services.
Homecare
We will continue to expand and enhance our Homecare service for adults and our Homecare service for adolescents so that as many service users as possible can access care from their homes, where it is appropriate to their needs.
Inpatient services
We know how important it is to ensure that we continue to provide the highest quality inpatient services for people who need to be cared for in person. We will continue to invest in the inpatient services we provide.
Day services
Our Wellness and Recovery Centre offers a range of onsite, online and hybrid day programmes. We will expand our day services to make mental healthcare more accessible from across the country.
Outpatient services
Our outpatient community Dean Clinics provide an integrated service where service users can access mental health assessment and treatment for the first time, or as part of their continued care. We will continue to refine and improve our outpatient services by further embedding remote access.  
Modernising our facilities
We are committed to ensuring our facilities are of the highest quality possible for our service users.
By continuing to modernise our inpatient facilities, we can create a purposefully designed and modern space where service users feel safe, respected and in control, and enjoy a sense of connection, community and dignity.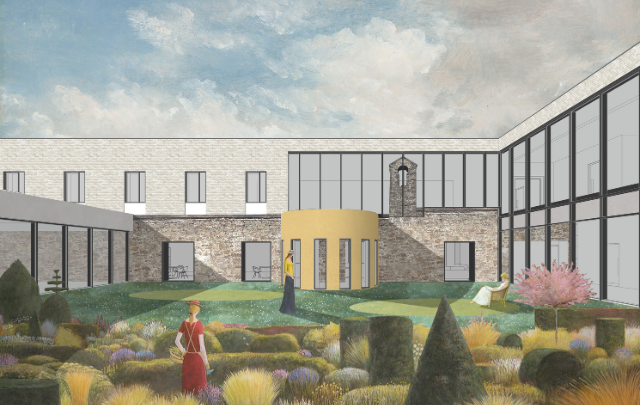 We will also explore the viability of building a world-class mental healthcare facility, leveraging our existing land at St Patrick's Hospital Lucan, to provide:
adolescent and adult inpatient services
acute inpatient services
an addiction unit
an eating disorders unit
age-specific care units
day service and outpatient facilities
a full range of therapeutic facilities, including a gym, music therapy rooms, and an arts and crafts studio.
Developing a national centre
We are committed to developing a national centre for mentally healthy living which will provide mental health and wellbeing initiatives for the general population, as well as a range of services for people experiencing mental health difficulties.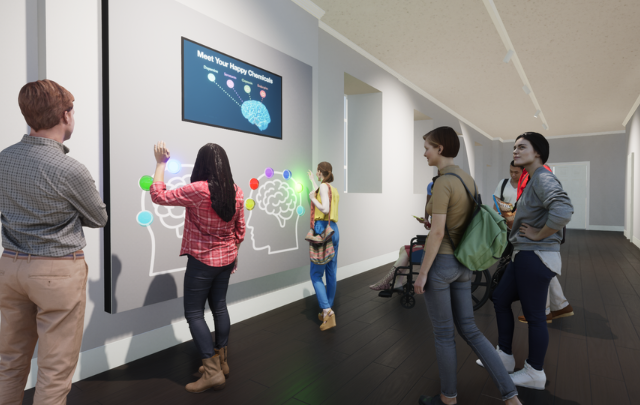 Planning permission to proceed with phase one of this development was granted from Dublin City Council in 2022. This includes a programme of conservation work to repair the fabric of the Historic Building of St Patrick's University Hospital in Dublin 8 and to transform its ground floor, which will be home to:
an Interactive Education Centre
an Advocacy Centre
an Academic Institute
a Training Centre
clinical rooms and spaces for service delivery.
Interactive Education Centre
The Interactive Education Centre will tackle misinformation about mental health; challenge stigma; and educate people, particularly young people, about the practical tools we can all use throughout our lives to support our wellbeing and mental health. It will also immerse them in the history of our founder, Jonathan Swift, and the hospital building. The education centre will be free of charge to the public, and will open up compassionate conversations around mental health and equip visitors with the knowledge and tools to better understand and support their mental health.
Advocacy Centre
The Advocacy Centre strives to promote mental health, advocate on human rights issues, reduce stigma surrounding mental health difficulties, and increase inclusion and understanding. We will strengthen and develop collaborative advocacy partnerships and continue our contributions to consultations and submissions that inform policy development.
Academic Institute
The Academic Institute will be progressed into an international research centre, pioneering research in the field of mental health. It will act as a central hub for all academic work within SPMHS, and promote the role of research and training in SPMHS and beyond. It will play a crucial role in investigating and enhancing mental health treatments and evidence-based practices by collaborating with Trinity College Dublin and other organisations.
Training Centre
We will expand our training for mental health professionals through the Training Centre. We will also further develop comprehensive continuing professional development (CPD) programmes for people working in mental healthcare and the organisations providing mental health services.
Partnering with service users
Partnership and consultation with service users form a critical part of how we operate. The feedback we receive from service users and their supporters has a tangible and valuable effect on how we develop as an organisation.
We believe in a more inclusive system of service user representation. We will continue to develop and enhance our service user engagement structures so that our service users remain at the core of everything we do.
We will deepen the involvement that service users, and their supporters, have in shaping our services and in contributing to achieving our strategic objectives such as advancing research, strengthening advocacy, and educating the general public about mental health.
The establishment and introduction of a peer support service will also be explored, and we will continue to champion diversity and inclusion to ensure our service users are wholly and equally represented.
Achieving operational excellence
None of what we achieve would be possible without the highest standards in how we operate. Investing in staff, technology, sustainability and constant evaluation means that we are able to set an ambitious strategic vision.
We will:
Enhance our Human Resources Strategy to ensure we continue to attract, recruit and retain the highest quality staff and to empower our staff to reach their full potential through learning and development

Continue to implement a value-driven financial model that delivers the most positive outcomes for service users in the most cost-effective ways

Ensure we are delivering the most efficient service that we can by continuously assessing clinical outcomes based on efficacy and cost
Embed best practice in sustainability and positive climate actions into our organisational ethos and strategic plans.
Conclusion
What gives us certainty in our plans and the resilience to keep moving forward? The possibility of recovery for all.
Our 2023 to 2027 strategy, The Future in Mind, reflects the many changes seen by society and the ever-changing landscape of mental health in Ireland, to ensure that we are prepared and equipped to respond appropriately to the diverse and dynamic mental health needs of a society that is constantly evolving.
As we embark on this new strategy, and seek to achieve the ambitious aims outlined within it, we look forward to further progressing our vision for a society where more people are empowered and given an opportunity to live mentally healthy lives.
See our strategy document
You can download our 2023 to 2027 strategy document below.