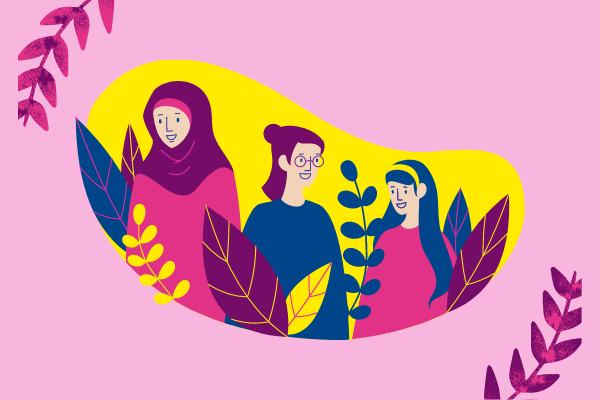 St Patrick's Mental Health Services (SPMHS) shares how positive climate action can help protect global mental health globally, and especially women's mental health.
Addressing gender equality today can lead to a more sustainable future. Climate change and gender equality intersect: progress on both must go hand in hand. For example, the United Nations (UN) points out that greater representation and participation by women at local, workplace and parliamentary level are all associated with more effective and meaningful climate action and outcomes.
The global challenges and world events we are collectively facing can feel overwhelming and frightening at times. It's important to remember there are many things we can all do in our daily lives to support our mental health, and work for both a more gender equal and sustainable world.
We share five ways taking positive climate action can help protect people's mental health globally, with a special focus on women's mental health.
Did you know...
Connecting with and protecting the natural world supports our mental health?
Engaging and connecting with nature is a powerful way to support our mental health in daily life and can also have great benefits for the environment. Gardening, conservation activities, and caring for animals and wildlife all have positive associations with mental wellbeing. Spending time in different natural environments, such as woodlands, parks or beaches, also offers benefits for our mental health. 
Caring and sharing activities, which can include wildlife care and protection, have also been found in neuroscience studies to activate the pleasure centres of our brain more than activities based on "winning" or "domination".
Ensuring we preserve and protect wildlife and the natural world is thus not only vital for its survival, but for our own wellbeing and health.
Climate action supports both gender equality and women's health?
UN Women highlights that "women and girls experience the greatest impacts of the climate crisis as it amplifies existing gender inequalities and puts women's lives and livelihoods at risk. Across the world, women depend more on, yet have less access to, natural resources, and often bear a disproportionate responsibility for securing food, water, and fuel".
The circumstances and environments we live in affect our mental health, so it understandably follows that climate change impacts will also have mental health impacts.
Of course, we know that those who are most impacted by climate change are also those least responsible for it.
It's important then to consider that, by making the changes we all need to make in how we, for example, eat, live, travel, and consume in a country such as Ireland, we are also taking action to support the health and wellbeing of those most affected by climate change globally.
Meaningful climate action will also help reduce the mental health impacts of climate change?
Experience of the direct consequences of climate change, such as floods, droughts and wildfires, understandably has serious implications for people's mental health, and research indicates particularly serious outcomes for men.
In terms of women's mental health, women are more likely to develop stress-related disorders and depression due to such disasters.
By taking more urgent action to tackle climate change, we can help reduce these impacts for people worldwide now, and in particular for people with existing mental health difficulties.
Women and young people are most likely to experience anxiety and distress about the climate crisis?
Experiencing feelings of anxiety and grief about the environment and nature loss are some of the indirect mental health impacts resulting from climate change. Along with young people, research indicates that women are more likely to be distressed about climate change.
It's important to acknowledge that experiencing distress or anxiety about climate and biodiversity issues are normal responses to serious situations. We share some ways to help manage this below.  
For the wellbeing of children and young people, research also shows that it's especially important for them to see adults acting responsibly and meaningfully responding to their concerns when it comes to tackling climate and biodiversity matters.
Climate action is an action against gender-based violence? 
The impacts of climate change have been found to be associated with greater risk of gender-based violence. For example, incidence of domestic violence has been found to increase after climate-related disasters, such as extreme weather events. Experience of trauma such as domestic violence significantly increases the risk of serious mental health difficulties.
Taking climate action then can also be seen as an action against gender-based violence and its mental health consequences.
Where to get more information
All the issues above only strengthen the case further for meaningful climate action at all levels: in our own lives, in our communities and workplaces, and within our social, economic and political systems. And, importantly, by taking action on the climate and biodiversity crises, we are also taking action to support and protect mental health worldwide.
If you would like more information, you can
How to look after your mental health in difficult times
If you are finding yourself experiencing worry and anxiety about climate and biodiversity issues, or other serious worldwide events, such as what's happening in Ukraine, it's important to know that this a normal reaction to extremely serious matters. It's also important to remember that there are many things you can do to look after your mental health.
Making sure to eat regularly, stay hydrated, get fresh air and exercise, and take time to rest and get enough sleep day to day is extremely beneficial.
Staying connected with others, remembering you are not alone in feeling this way, and talking through your worries if you need to can be very helpful.
Finding ways to relax to counter feelings of stress and anxiety is very important. This can include breathing exercises or relaxation techniques, meditation or mindfulness exercises, or practicing gentle yoga.
Taking practical and meaningful steps to contribute to climate action has been found to be one of the most effective ways to deal with feelings of climate anxiety. There are lots of things we can all do to contribute to climate action, from simply eating less meat to joining community groups and efforts. If you become more involved in climate activism, experts in the field have pointed out, it's essential to do this in a sustainable way and make sure to tend to your self-care.
Being mindful about the information and media coverage you are following is useful. Follow reliable, fact-checked news and information sources. Don't depend on social media alone to learn about an issue, and don't spend huge amounts of time following negative developments. Making thoughtful choices about how regularly you check the news and taking screen breaks from your phone or other devices can be helpful.
If you are worried about your mental health or that of a family member, it's important not to delay seeking help and support. Find information on getting help and support here.