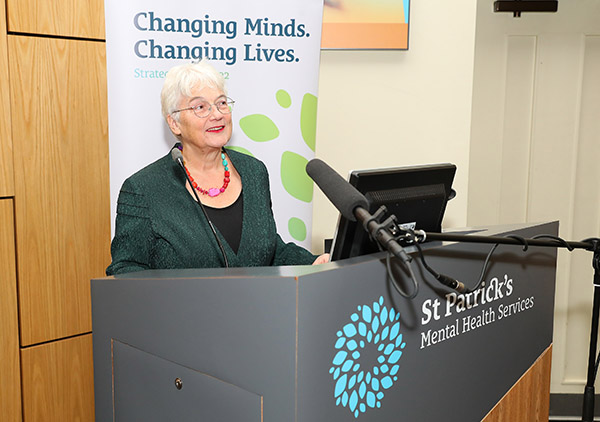 Eating disorders in a modern society – St Patrick's Mental Health Services' conference focuses on clinical and research developments
Over 200 people gathered in St Patrick's University Hospital on Friday, November 30th for our annual Founder's Day conference which this year focused on 'Eating disorders in a modern society'.
In collaboration with Bodywhys, Founder's day brought together experts in the field of eating disorders to share expertise on both the clinical and research areas of eating disorders.
Integrating MANTRA into an adult eating disorder service was presented by Dr Clare O'Toole, consultant psychiatrist; Dr Toni O'Connor, advanced nurse practitioner; and Eleanor Sutton, mental health dietitian during the clinical session, as well as a presentation from cognitive behavioural therapist, Gerry Butcher, who addressed the development of integrative cognitive affective therapy as a viable treatment for bulimia nervosa.
Prof Janet Treasure OBE, Professor of Psychiatry, King's College London and Maudsley Hospital, delivered the plenary lecture entitled 'The Legacy of Gerald Russell for eating disorders in 2020 and beyond.'
Prof Treasure, who has worked with eating disorders for over 25 years, gave an overview of Gerald Russel's legacy in eating disorders before moving into the discussion of current research in both anorexia and bulimia, bringing the milestones in research to the fore. 
A research session on combining evidence, education and experience to support families (the PiLaR programme) was delivered by Harriet Parsons, training and development manager at Bodywhys; Fiona McNicholas, consultant child and adolescent psychiatrist, Our Lady's Hospital for Sick Children, Crumlin and Lucena Clinic; and Dr Ingrid Holme, Research Fellow, Child & Adolescent Psychiatry, UCD.
The conference also saw research presentations from Dr Clodagh Dowling, principal clinical psychologist, who gave an overview of compassion-focused therapy for eating disorders and Dr Colman Noctor, child and adolescent psychoanalytical psychotherapist, addressed social media and its role in eating disorders.
About Founder's Day
Founder's Day is St Patrick's Mental Health Services' most prestigious annual event celebrating excellence in clinical practice in mental health. It brings together academics, clinicians, members of the multi-disciplinary teams and service users. It is also a major event in the Irish CPD calendar.