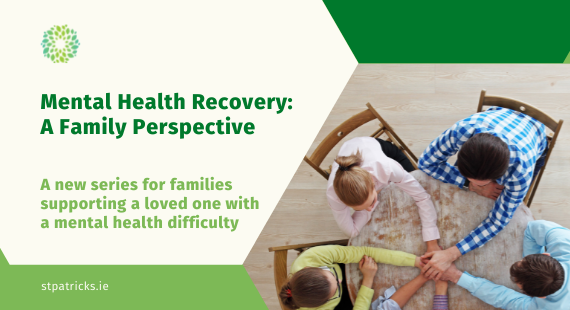 St Patrick's Mental Health Services (SPMHS) is launching a free webinar series for families supporting a loved one with a mental health difficulty.
As society begins to emerge from the COVID-19 pandemic, we are beginning a free, monthly webinar series called Mental Health Recovery: A Family Perspective. The 14-part series aims to provide information for families and carers supporting a loved one with a mental health difficulty.
The first webinar in the series will take place at 7.30pm on Tuesday 12 October and will cover Information and Advocacy for Family Recovery.
Family members can play an important role in their loved one's recovery journey by offering encouragement, promoting they seek help and providing day-to-day practical supports in a way that respects the service user's right to confidentiality and autonomy, while also protecting their human rights.
Covering mental health topics
Mental Health Recovery: A Family Perspective was developed by our Social Work Department in consultation with our Service User Advisory Network (SUAN). The series will be delivered by a range of mental health professionals and addresses a wide variety of concerns that family members may experience in their support role.
 Webinar topics include:
Information and advocacy for families
Trauma recovery: A family perspective
Supporting a loved one with eating distress
Supporting a loved one living with addiction
Adolescent mental health and the family
The role of emotion regulation in the family
Anxiety: Key facts for families
Supporting a loved one with a personality difficulty in recovery
Psychosis recovery: Key facts
Older adult mental health recovery
Family self-care, communication and problem solving
The role of family peer support
Medication and mental health recovery
Supporting young adults in recovery
Accessing family supports.
Responding to increase in mental health concerns
This webinar series aims to support families and carers when people are going through mental health challenges. Our annual Attitudes to Mental Health and Stigma Survey was released in July of this year, with results showing rising mental health concerns:
of adults are concerned about their own or a family member's mental health; up 13% since before the pandemic
have had someone disclose to them that they have, or had, a mental health difficulty
of parents to under 18s are concerned about the long-term impact of the pandemic on their child's mental health
Elaine Donnelly, Social Worker with SPMHS, said:
"When supporting a loved one in mental health recovery, family members often find it challenging to access practical information on mental health, services, support and self-care. Every family is different and every individual's recovery pathway is unique. Families often have a varying range of needs for information and support depending on their specific circumstances, and this new series will aim to address and respond to some of these needs."
Damien Nolan, Head of Social Work with SPMHS, added:
"Those who care for a loved one with mental health difficulties – very often this involves family members – can play a vital role in supporting the person concerned and helping them towards recovery. It is important that those who perform this role are themselves supported during this time, not only for their own sake but for the sake of the person living with the mental health difficulty. Mental Health Recovery: A Family Perspective puts families and others who care at the fore and addresses the key role they play in the recovery journey, while also providing practical information for supporting their own mental health."
Find out more about support for families and carers
There is support available for those who are caring for someone with mental health difficulties.