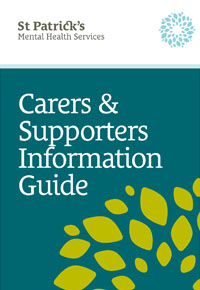 This guide is aimed at carers and family members of service users who are attending St Patrick's Mental Health Services (SPMHS), particularly where they have been admitted to hospital. The hospital provides a community and outpatient care pathway through its Dean Clinic Community Mental Health Clinics, while its Wellness and Recovery Centre provides day-patient care.
The hospital's three approved centres provide inpatient care. They are:
• St Patrick's University Hospital (SPUH);
• St Edmundsbury Hospital (SEH); and
• Willow Grove Adolescent Unit (WGAU).
The hospital believes that carers and family members would welcome a guide, written in plain English, at the point at which their loved one comes in contact with our services. We hope you find that this guide is helpful for you at what we know can be a challenging time.
Carers & Supporters Information Guide