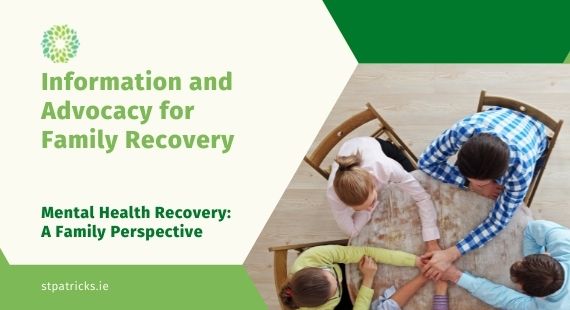 St Patrick's Mental Health Services (SPMHS) is hosting the first webinar in our family information series on 12 October.
Mental Health Recovery: A Family Perspective is an information series for families supporting a loved one with mental health difficulties. For someone with a mental health difficulty, the support they get from their family, friends or carers can make the journey much easier. This series aims to address any questions or concerns you, as a carer, may have.
As part of the series, we will host a webinar each month focusing on a particular mental health concern from the perspective of the family or carers. The lectures will be delivered by different mental health professionals and will cover topics such as addiction, anxiety, eating disorders and many others.
In our first lecture, Elaine Donnelly, Team Lead Social Worker in our Department of Social Work, will discuss Information and Advocacy for Family Recovery.
Find out more about support for families and carers
There is support available for those who are caring for someone with mental health difficulties.