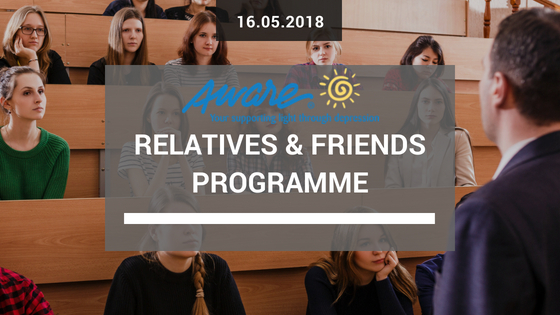 The Aware Relatives & Friends programme is due to commence in St Patrick's University Hospital on Wednesday 16th May.
The Relatives & Friends programme is a psycho-educational programme designed specifically for those supporting a loved one experiencing depression or bipolar disorder.
This free programme runs for six hours over the course of four weeks and aims to provide helpful information about depression and bipolar disorder, provide practical skills and address the challenges faced each day when supporting a loved one.
Places will be limited to 20. You can reserve a place by calling our information centre at 01 249 3469. Please do not reserve a place unless you are available to attend all 4 sessions.
The programme will run every Wednesday from 3 to 4.30pm in the lecture hall, commencing on May 16th, for 4 weeks.
Please note *This programme is for relatives, friends and those supporting individuals with bipolar disorder or depression.*
Tags: Aware