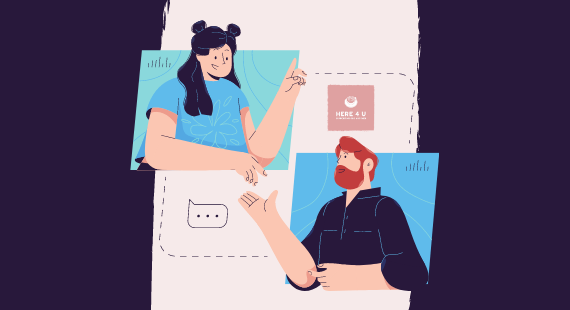 The Service Users and Supporters Council (SUAS) of St Patrick's Mental Health Services (SPMHS) has developed a free online peer-to-peer support service, Here 4 U, for people to use their own experiences of mental health difficulties to help others.
Sense of community
SUAS is a voluntary committee made up of former service users, and its purpose is to enhance the experience for current service users receiving treatment for mental health difficulties and their families.
Chair of SUAS, Marian Slevin, said SUAS is "delighted to announce the development of this new peer support service, which was devised during the first lockdown in March 2020."
"Here4U creates a space for people to support one another at a time of great uncertainty, and is also an opportunity to improve the mental health of participants by providing much-needed connections while we continue to remain apart physically. It is our hope that, following a successful pilot programme, we can expand the service nationwide to make it inclusive for anyone who feels they would benefit from the sense of community that the support service will foster."
Our Service User Engagement Coordinator, Siobhan Fitzharris, said: "SPMHS is proud to support the members of the SUAS in this project, which is very close to their hearts. The COVID-19 pandemic has meant that we have all had to adapt to the way we interact with people, with many feeling the effects of isolation and loneliness from the continued public health restrictions. The purpose of this new support group is to help mitigate some of these effects by providing supportive connections with people who have similar experiences."
"This support group is the first of its kind for SPMHS, and marks an important development for service user empowerment, which is a key strategic goal of the organisation. We look forward to its roll-out and hope that it will eventually become nationally accessible for anyone who needs it."
Bookings
Initially, Here 4 U will meet twice weekly, with the first session taking place on Monday, 25 January. Pre-booking a place is essential and bookings can be made here.
We also operate a confidential Support and Information Service, staffed by experienced mental health nurses from 9am to 5pm, Monday to Friday, with an answering and call-back facility outside hours. You can get in touch with the service by calling 01 249 3333 or emailing info@stpatsmail.com.
Find out more about Here 4 U
Book an upcoming Here 4 U session