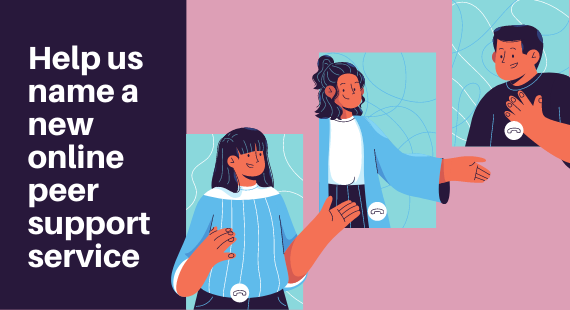 Our upcoming online peer-to-peer support service has been named as "Here4U" following an online competition.
This new service, beginning in January 2021, is being developed by our Service Users and Supporters Council (SUAS) as an online space where people who have a shared experience of mental ill-health can support one another.
Naming the service
Run by and for people who have gone through mental health difficulties, SUAS recently ran a competition to come up with a name for the new service, with entries accepted until Monday, 30 November. 
Following a high volume of strong and creative entries, the winning name, "Here4U" was chosen by the Online Peer Support Steering Committee, which is made up of current and former service users of St Patrick's Mental Health Services (SPMHS). The person who entered the winning suggestion will receive a €100 One4All voucher.
The competition was held to find a name to reflect the peer support nature of the service, which shapes it to be a safe, supportive place to join in a coffee and a chat with some friends. SUAS also feels it's important that the name comes from people who would be interested in using the service so that it is relevant and meaningful to their perspectives and experiences also.
SUAS is establishing the online peer support service to ease the sense of isolation many people are feeling as we move through the various stages and restrictions of the COVID-19 pandemic. The pilot phase launches in January for people who have previously attended SPMHS, with hopes to extend this nationally for anyone who feels they would benefit from this kind of peer support if this pilot goes well.
If you have any queries about the new service, please email our Service User Engagement Coordinator, Siobhan Fitzharris, at sfitzharris@stpatsmail.com.
Find out more about SUAS and the peer support service