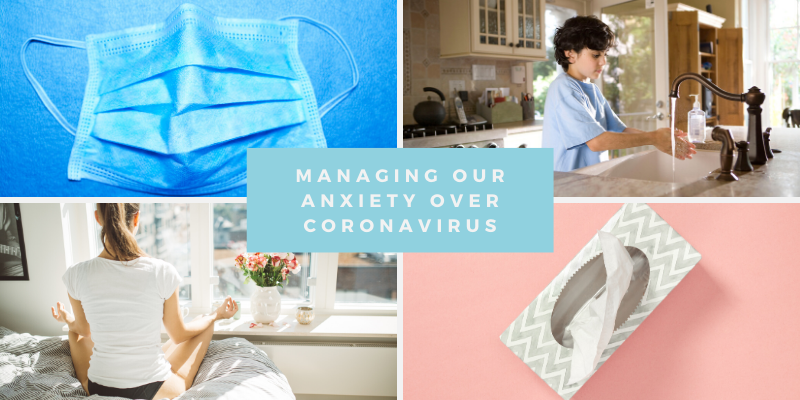 COVID-19 (coronavirus), unheard of a few months ago, today dominates the news headlines and social media. Here, Medical Director of St Patrick's Mental Health Services, Professor Paul Fearon, shares five strategies we can use to reduce our anxiety in its wake.
With the advent of coronavirus, we are much more acutely aware of life's day to day uncertainties. Coronavirus is influencing our actions and our future plans, and is almost ever-present in our thoughts. The numbers of identified cases increase almost daily and are likely to rise significantly over the coming weeks.
Nobody is quite sure how this will play out. Some media outlets, at times, tend to focus on 'what if' worst case scenarios in order to feed our interest and fear. Will the virus be contained and burn out, like SARS in 2002? Will it turn out to be relatively mild and become endemic, or regularly found, in our population, similar to swine flu in 2009? Or will it be more like the Spanish flu that swept across the world just over a century ago?
Dealing with the unknown
In the face of such uncertainty, it's not surprising that many of us are living with a heightened sense of anxiety, or even fear. We have become used to having answers to most of our problems given to us, or at least to being able to find those answers easily online. In this situation, however, there are two difficulties.
First, as the virus spreads, official advice is updated regularly to reflect these rapidly changing circumstances. This may appear to some to be evidence that the authorities are indecisive or unsure, when, in fact, the opposite is the case. Official advice in epidemics and pandemics does, and must, change rapidly, and according to the latest and best sources of information, so that we are always doing the right thing at the right time.
Second, there is still much we do not know about this virus. Can we contain it? How many people are infected but haven't yet been tested and therefore confirmed as cases? When will we develop a vaccine? What is its true mortality rate (the current best estimate is 3.4%)? What will be the effect of this outbreak on our daily life, our jobs, our children's school attendance, the wider economy?
Sense of powerlessness
So, how do we know what the appropriate level of anxiety is in our current situation, and how do we best deal with it? This is a question for all of us, but particularly for those who may be of a naturally anxious disposition, and those with existing anxiety disorders or other mental health difficulties.
We know from studies carried out during and after previous virus outbreaks that, unsurprisingly, there are increased rates of anxiety, depression and insomnia in the general population, and also an increased rate of relapse in people with a pre-existing mental health condition, such as an anxiety disorder, depression, or psychotic disorder.
The biggest issue for many of us at present may not be the virus in itself, but rather the sense of powerlessness we feel in the face of a perceived lack of knowledge. If this is so, we have to think about what we can do to combat this and to reduce the feeling of powerlessness which causes much of our anxiety.
Strategies to reduce anxiety and fear
There is a sense at the moment that, individually and collectively, we are powerless to do anything that might make a difference in the current situation: it's important that we challenge this idea. In doing so, we can reduce some of our feelings of anxiety or even panic as we realise that there are many things we can actively do to alter how we view and react to our current circumstances. Five strategies we can use include:
In using these five strategies, not only will some or all of them be effective individually, but, combined, they can give you back a sense of control. You will no longer feel like a powerless, passive recipient of worrying news, but, instead, you are actively taking steps to regain a sense of control over your thoughts, fears and actions.
Focusing on what we do know
Our minds tend to focus on gaps in our knowledge and we tend to give less thought to what we already know. So why not focus on what we do know, rather than on what we don't?
Jon Henley did precisely this in a recent great piece in the Guardian, listing nine reasons to be reassured. These include the astonishing facts that we identified the virus within seven days and had mapped out its entire genetic code three days after this (it took two years to identify HIV in the 1980s). Then, another three days after we knew its genetic makeup, we had developed a reliable test for the virus.
We also know from the evidence coming from China, where numbers of new cases are dramatically reduced, that the virus can be contained, admittedly at great human effort and economic cost. Furthermore, it takes a certain amount of exposure to become infected (15 minutes within two metres of an infected person); in the majority of cases, symptoms are mild, particularly in younger children; many people who have been infected are already recovering; and vaccines are already being worked on in multiple centres.
Fear is the real enemy
While not wanting to minimise the real health threat that coronavirus poses, and acknowledging that we cannot be complacent, it's important that we retain a sense of calm perspective, work together and do not allow our fears to overwhelm us.
With this in mind, another good way of building this sense of community spirit and resilience is by getting involved in the upcoming #MindYourSelfie Day from Walk in My Shoes, the flagship mental health awareness campaign from St Patrick's. On #MindYourSelfie Day, we invite you to post a selfie, photo, video or other preferred content with the hashtag #MindYourSelfie to your social media profiles. This year, in light of the constant information around coronavirus and other similarly upsetting news headlines, we are asking you to take a moment to share something you do to mind your mental health and wellbeing or how you create a sense of calm during a period when anxiety levels are raised.
Focusing on evidence and facts, rather than fear and rumour, will help us to navigate us through the weeks and months ahead.