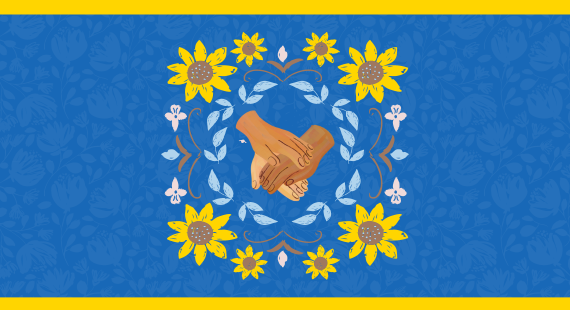 St Patrick's Mental Health Services (SPMHS) invited the Ukrainian community to a mental health information session on occupational therapy.
The role of occupational therapy in mental health took place online on 5 September. 
Occupational therapy is a client-centred health profession concerned with promoting health and wellbeing through occupation. The primary goal of occupational therapy is to enable people to participate in the activities of everyday life that they want to do, they need to do, or they are expected to do.
St Patrick's Mental Health Services проводить вебінар про Трудотерапія та її роль в укріпленні психічного здоров'я для української громади. Ви можете дізнатися більше про цю цей вебінар і про те, як його відвідати, нижче.
Worldwide, the number of displaced persons has increased over the last decade. Displacement disrupts meaningful routines, habits, and roles of an individual. This disruption may be temporary or can become prolonged and lead to difficulties in maintaining health and wellbeing.
This psycho-educational talk for Ukrainian refugees, volunteers, and interested healthcare professionals provided information to better understand occupational therapy, the role of occupational therapy in mental health, and supporting individuals during transitional phases from an occupational perspective.
The session was delivered by Anna McCormick, an occupational therapist trained in the United Kingdom. Anna joined our team in SPMHS in January 2021 as an occupational therapist. She has worked in a number of different clinical contexts, including physical health (neurology, orthopaedics, care of the elderly, and acute medicine), inclusion health (HIV and homelessness), and mental health. Anna has completed a Master of Sciences (MSc) in Global Health and is passionate about inclusion health and occupational justice.
You can now watch the session back below.