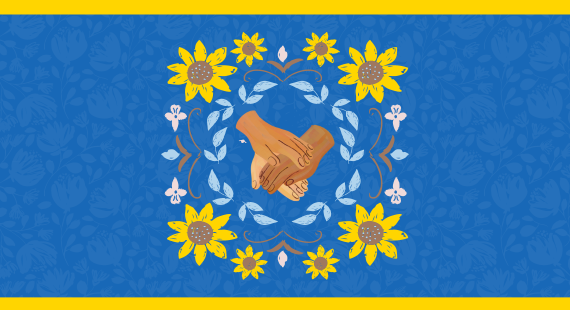 St Patrick's Mental Health Services hosted a mental health information event for the Ukrainian community on 9 May 2023.
The event, a psychoeducation session on trauma, loss and bereavement, is now available to watch online. Psychoeducation is a process aimed at informing people about mental health difficulties.
St Patrick's Mental Health Services проводить вебінар про травматичний досвід, втрату та горювання для української громади. Ви можете дізнатися більше про цю цей вебінар і про те, як його відвідати, нижче.
Worldwide, the numbers of displaced people have increased over the last decade. Research shows a link between fleeing war, persecution or conflict and mental health. Facing stressors before migration, during migration and after migration can lead to mental health difficulties, with post-traumatic stress disorder (PTSD), depression and anxiety have been found to be the most prevalent. In addition, refugees and migrants face a multitude of losses, due to trauma, displacement and death.
This event is designed for Ukrainian refugees, volunteers, and interested healthcare professionals. It aims to help attendees to better understand and recognise PTSD, depression, anxiety, loss and bereavement in children, adolescents, adults and older adults. These are all of reactions to the extreme circumstances faced by the Ukrainian community.
The session is delivered by Liesl Dart, a clinical psychologist trained in South Africa. She worked in private practice for nearly 14 years, working mostly with people experiencing depression, anxiety, trauma, complex bereavement and chronic illness. Liesl relocated to Ireland in August 2022; received Health Service Executive (HSE) validation of her qualifications; and joined our team here in SPMHS in November 2022 as a Clinical Psychologist. She is a chartered member of the Psychological Society of Ireland and a full member of the Irish Forum for Psychoanalytic Psychotherapy (IFPP). She is a passionate advocate of mental health awareness and the de-stigmatisation of mental health difficulties.
As an English-speaking organisation, we are working with a Ukrainian translator who attended the event and translated it into the Ukrainian language in real time.
You can watch the talk below.
Information about the event is available in the Ukrainian language here.
Information in Ukrainian
We have a number of blogs available in the Ukrainian language on topics relating to this webinar. You can find these below.
Articles in Ukrainian