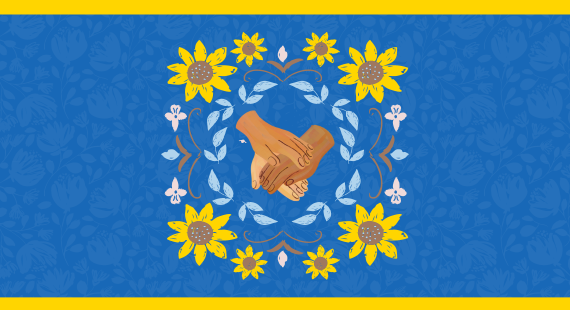 St Patrick's Mental Health Services (SPMHS) hosted a mental health information event for the Ukrainian community on Tuesday, 16 May 2023.
The psychoeducation session on caregiver stress, burnout, and trauma is now available online. Psychoeducation provides people with information and an understanding of mental health difficulties.
St Patrick's Mental Health Services проводить вебінар про травматичний досвід, втрату та горювання для української громади. Ви можете дізнатися більше про цю цей вебінар і про те, як його відвідати, нижче.
The number of displaced persons has increased worldwide over the past decade. With this, the number of caregivers, volunteers, and aid workers required to cope with the special needs of this population has also risen. Refugees fleeing conflict areas and war are likely to have experienced trauma, loss, and bereavement. Some may have pre-existing mental health difficulties or develop mental health difficulties due to their exceptional circumstances.
This psycho-educational talk on stress, burnout, and trauma is for Ukrainian refugee caregivers, volunteers, and aid workers, as well as interested healthcare professionals and colleagues.
The aim of this session is to inform and educate, but also remind caregivers that self-care is vital.
Liesl Dart, a clinical psychologist here in our team at SPMHS, delivered the session. Trained in South Africa, Liesl worked with people experiencing depression, anxiety, trauma, complex bereavement, and chronic illness for nearly 14 years in private practice. Relocating to Ireland in August 2022, Liesl has received validation of her qualifications from the Health Service Executive (HSE) and joined our SPMHS team. She has full membership to the Irish Forum for Psychoanalytic Psychotherapy (IFPP) and is a chartered member of the Psychological Society of Ireland. Liesel passionately advocates on mental health awareness and the de-stigmatisation of mental health difficulties.
Our English-speaking organisation works with a Ukrainian translator who attended the event and translated the discussion into the Ukrainian language in real-time.
Watch the session below.