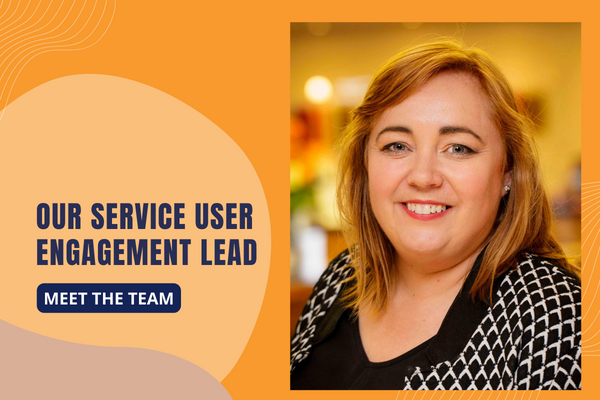 Siobhan Fitzharris, Service User Engagement Lead here at St Patrick's Mental Health Services (SPMHS), talks us through her typical working day and how service user participation impacts all we do.
I studied sociology in college and went on to do a master's degree in marketing. After several jobs, I realised I was drawn to work in the social care or not-for-profit sectors, rather than the commercial sector.
I first joined SPMHS when I covered maternity leave for the Walk in My Shoes Project Manager and loved working on its various mental health awareness and education campaigns, especially working with some former service users who took part in these campaigns. I was excited to later interview for the new position of Service User Engagement Coordinator and began this role in April 2019. 
Service user engagement
The main purpose of my job is to grow and develop the various structures within SPMHS that offer our service users the opportunity to get involved in our strategic and policy development. These groups are made up of volunteer service users and supporters who use their lived experience to help ensure that the service user perspective is included and represented when changes are being considered or implemented.
Our Service User and Supporters Council (SUAS) was established to facilitate extensive service user participation, which directly informs how we develop our services.
Our Service User Advisory Network (SUAN) is a larger group of former service users who take part in specific projects.
We also facilitate a Remote Care Users Advisory Forum, a service user group that works with our Digital Health Team to inform our approach to integrating technology, such as Your Portal, into how we deliver care and treatment.
What my days look like
I am usually at my desk at 8am. I begin by checking which service user group meetings I have for the day and sending out reminders for them. These groups and meetings are very varied. On the first Wednesday of the month, I facilitate the SUAS meeting, while, on the last Thursday of each month, I facilitate the Remote Care Users Advisory Forum. Twice a month, I co-host the Information Café, an informal, non-clinical information session for current service users at SPMHS who are due to be discharged. I co-host this session with members of SUAS and SUAN, who share their experience of transitioning from hospital to home.
At the beginning of each month, I also send out Service User Experience Surveys to all service users who were discharged from our inpatient care or Homecare Service in the last month, who attended a Dean Clinic outpatient appointment, or who completed a day programme. I review the anonymous responses received from these surveys and compile a report for the Senior Management Team highlighting the issues raised and the many compliments received.

As well as arranging meetings with service user groups, I get calls from former service users who are interested in finding out more about joining SUAS and SUAN. I regularly get requests from staff members who would like to engage with service users' groups. The requirements can range from a request to design and send online surveys seeking feedback or holding focus groups to generating ideas for a project or service development.
It's a very varied day. I find going for a walk at lunchtime helps to clear my head and gives me the opportunity to plan for what tasks I need to do. When I'm not working, I'm painting and decorating: I recently moved to a new house so as there is a lot to be done!
I enjoy cooking and a good boxset binge to help me switch off.
Standout moments
A standout moment for me was in January 2021 when SUAS launched an online peer support group called Here 4 U, a free service run by and for our former service users. SUAS members decided to launch Here 4 U during COVID-19 lockdowns as they recognised the lack of contact with others was having a negative impact on their mental health. I worked with SUAS members to develop and launch the service; it ran until October 2021 when demand decreased as lockdown restrictions eased. I work closely with lots of different service users. At first, I felt I needed to offer advice, but I have now come to realise that I just need to listen. This allows me to really hear what someone is saying, rather than trying to come up with possible solutions.

I really enjoy getting to know and work with so many different service users who are members of our groups. Working with people who volunteer their time to attend our various structures and forums is really interesting. I quickly learned that a formal approach to these meetings doesn't always work. For example, formal agendas can sometimes prevent a natural conversation.
The best piece of professional advice I have received is "if you don't know something – ask!". It really does help to avoid mistakes and confusion, and ultimately saves a lot of time in the long run.
See more from our service users
Some members of our service user engagement groups share blogs and articles about their journeys of mental health recovery. You can read more from them here.
Get involved
Service users, their carers and supporters can get involved in lots of different groups. Find out more about how you can take part below.