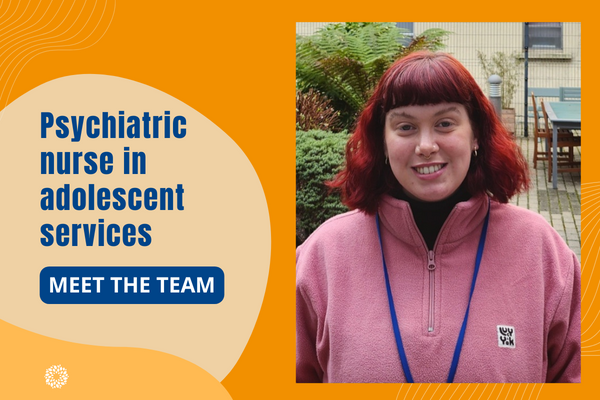 Chloé Mant is a psychiatric nurse in Willow Grove Adolescent Unit. She explains how she came into mental health nursing and what her role is like.
I've been interested in mental health nursing and adolescent mental health for a long time.
Before college, I volunteered on a youth advocacy panel, and that's where my interest in the area began. When it came to applying for college courses, I knew what I wanted to do.
I began a Bachelor of Science (BSc) in Mental Health Nursing from Trinity College Dublin (TCD). As part of this course, I did my nursing training in St Patrick's Mental Health Services (SPMHS) and knew from then that I wanted to work in their Willow Grove Adolescent Unit. Throughout my training in SPMHS, I was able to hone my interests and this helped me to decide the next steps to take. I received a George Moore scholarship which enabled me to pursue a Master's degree in Global Mental Health in King's College London. This gave me great insights into mental health, from both national and global perspectives.
I'm now working as a registered psychiatric nurse in Willow Grove. I work with young people with a range of mental health difficulties. My role allows me to use my full range of nursing skills. I work both individually and as part of a team to provide holistic care to young people, and this can be done through one-to-one therapeutic time or through group facilitation. Getting to do this work with young people is something that I not only consider a privilege, but that I really enjoy.
As an area of work, adolescent mental health nursing is very dynamic. Working with young people means you can identify lots of different ways to approach situations and understand what's best for each person. For me, that's what being a good nurse is about: listening, being empathetic, and using good verbal and non-verbal communication skills. Working well within a team is very useful too. And, of course, working with young people involves having a sense of fun!
Seeing the incredible resilience that young people can have and the improvements they can make is incredibly rewarding as a nurse. It's also a testament to the importance of early intervention and promoting positive mental health.
I've always found SPMHS to be a great workplace. There's a great sense of community and the team I work with in the Willow Grove are a very supportive and skilled group. There are great opportunities and experience to be gained from working in somewhere like this at the forefront of mental healthcare. There's access to postgraduate education, opportunities to work in many specialist areas with support from fantastic multidisciplinary teams, and lots of potential for career progression.
For anyone thinking of going into adolescent mental health nursing or working in the area, I would say: don't be afraid to put yourself out there. In nursing, there's no limit to what you can work with, and this is especially true with the changing needs of young people's mental health. Reach out to colleagues: you can get invaluable knowledge from other nurses at different stages in their career. And never stop learning - it's so important, as nurses, that we constantly learn and update our skillset to meet the needs of young people.
Chloé contributed to a piece about her role as a psychiatric nurse in the Irish Examiner: you can read her Irish Examiner article here.
Meet more members of our nursing team