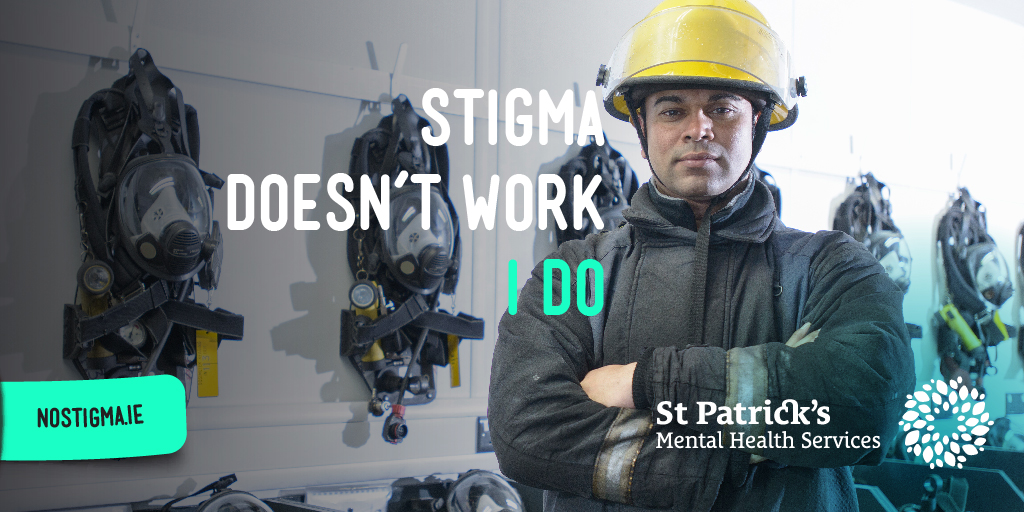 The team at St Patrick's Mental Health Services shares information on your rights when it comes to mental health difficulties and the workplace
The workplace is a key space to tackle mental health stigma and discrimination. More and more attention is being given to workplace mental health. This often includes workplace wellbeing initiatives to support mental health during the work day, or educational programmes for staff and employers to learn more about mental health and how to support staff who may be struggling during these difficult times.
Understanding our rights
Hopefully, we are all getting closer to #NoStigma workplaces, free from discrimination. A vital part of achieving life without stigma in the workplace is understanding:
our rights to be protected from discrimination
our obligations as employers to promote equality and protect staff from discrimination.
What does discrimination mean?
Discrimination can be understood as a part of mental health stigma that relates to our behavior and how we treat one another. Discrimination happens if we are treated less favourably than another person, because of who we are.
In legal terms, discrimination is understood as being:
unfavourable treatment compared with another
based on a specific ground
where there is lack of a reasonable and objective justification. 
The specific grounds of discimination include different characteristics and categories of people. One of these grounds is disability, and mental health difficulties fall under this area within the relevant law.
How are we protected from discrimination at work?
The main law which protects us from discrimination related to work is the Employment Equality Acts. This law prohibits discrimination on nine different grounds. Disability is one of these grounds, and mental health difficulties are included under this ground. This video from the Irish Human Rights and Equality Commission (IHREC) explains more about this law and what it means.
What are reasonable accommodations?
The Employment Equality Acts require that employers make reasonable accommodations for employees who have a disability. Reasonable accommodations are practical changes or steps an employer must make so that people with disabilities have equal opportunities to take part in employment. This includes people experiencing ongoing mental health difficulties.
These steps may be needed at different stages, such as attending job interviews, taking part in and advancing at work, or undertaking training.
Employers do not have to put in place measures if they would result in a "disproportionate burden" to the organisation. However, many relevant measures would not be of this nature, and there are also related grants available to employers.
What are reasonable accommodations for a mental health difficulty?
Some examples of reasonable accommodations an employer might make include:
Time off to attend mental healthcare appointments
Flexible working hours
Providing different types of support at work.
These will be different depending on people's needs, and it can be helpful to get advice about this from a mental health professional, such as an occupational therapist.
How do you return to work after a mental health difficulty?
If you have been off work for some time due to a mental health difficulty, planning for your return can be an important part of recovery. You may need some reasonable accommodations, such as a phased return to work or a change to your work schedule. These may be temporary or more long-term in nature. It can be helpful to talk through these things with a mental health professional.
In most cases, there may be a need to let your employer or organisation's occupational health department know about your mental health needs in order to arrange these things. It can difficult for employers to be aware of what supports or changes you might need otherwise. It's important to note, however, that you are not obliged to tell your employer you have a mental health difficulty, and, ultimately, this is a personal decision.  
It's important to note also that an employer may need to know about certain things if it makes aspects of your job risky; for example, if you are taking medication that makes you drowsy and warns against operating heavy machinery. While you may need to inform them of these things, you are not obliged to share a mental health diagnosis.
You can find more information from the IHREC about disclosing a mental health difficulty at work here.
What should you do if you've been discriminated against at work?
If you believe you have been discriminated against under the Employment Equality Acts, you can make a complaint to the Workplace Relations Commission (WRC). It's important to note that there are time limits for doing this. You must make a complaint within six months of the last act of discrimination. You can find more information about the WRC process here.
Where can you get more information on your rights?
If you would like to know more about your rights in the workplace, the IHREC offers an information service, Your Rights. You can contact this service by calling 01 858 3000 (or Lo-call 1890 245 545) or emailing YourRights@ihrec.ie.
You can also read an IHREC guide to your rights if you are discriminated against in the workplace or in seeking work.
The Equality Authority also provides a booklet on equality, mental health and how the law can help you.
Where can employers and managers get more information?
More information for employers on mental health and equality in the workplace can be found from:
See more from our #NoStigma partnership
This article originally appeared as part of our #NoStigma partnership with Shelbourne FC. Learn more about the partnership here, and see more of our series together below.