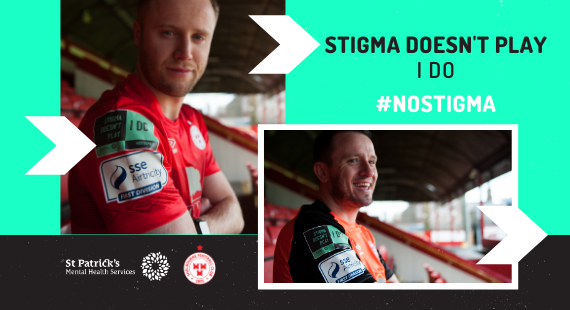 Shelbourne Football Club (FC) displays messages calling for an end to mental health stigma on its home and away kits as part of a new partnership with St Patrick's Mental Health Services (SPMHS).
The partnership, announced on 26 March, aims to take a multifaceted approach to reframing mental health stigma and promoting mental wellbeing in the community.
Combatting stigma in the community
Taking part in community life through participating in activities such as sport - whether playing, volunteering or supporting - can positively impact mental health in daily life and support recovery for those experiencing difficulties. However, fear of mental health stigma and discrimination can hold us back unnecessarily from doing these things or from seeking support from teammates or peers.
Together, we hope to create an openness and understanding about mental health and promote wellbeing among those involved with Shelbourne FC, particularly its young members.  To kick off the partnership, the club has added the campaign message, "Stigma Doesn't Play, I Do", to its men and women's senior teams' home and away day match kits.
The collaboration will also include:
Promoting the anti-stigma message on the new Shelbourne FC team kits

Developing bespoke mental health promotion resources and information for club members

Including the participation of young club members in initiatives from Walk in My Shoes, our flagship mental health education and awareness-raising campaign for young people
Providing information and encouraging people to seek support when needed.
Embedding mental health promotion
The partnership marks the second phase of our #NoStigma campaign, which launched in 2020 to reframe mental health stigma by showing the positive effects when it is not experienced. The campaign highlights how it serves us all collectively when stigma doesn't exist, by enabling us to fully participate and access support at home, at work and in our communities.
Our 2020 annual stigma survey showed that one in five of us has had a positive experience of talking about a mental health difficulty in our local communities. Shelbourne FC, a leading Irish professional football club, is a pillar in its local community on Dublin's northside, where it was formed in 1895, 126 years ago. With over 1,000 members of all ages in Shelbourne FC, including 400 boys and girls in its Youth Academy, we have identified a significant opportunity to come together to leave mental health stigma behind. 
A recent survey carried out by the Central Statistics Office showed that almost 60% of people say their mental health has been impacted by the COVID-19 pandemic, with younger people more likely to have experienced recent difficulties with their wellbeing. This is felt among all age groups throughout Shelbourne's club and community, where it is also recognised that mental health stigma can impact how quickly we seek support when we need it. 
This partnership is particularly meaningful for members and supporters of the club, who sadly lost two supporters to suicide in 2018. In the same year, the club also experienced the tragic and sudden loss of a young player during one of a match due to a rare heart condition. These events have left a lasting imprint on the club. It is committed to embedding mental health promotion as part of its club ethos; supporting and promoting wellbeing has become intrinsic to its core values, and it sees the holistic development of young club members, particularly through the Youth Academy, as a key part of its community work. 
Normalising discussion around mental health
Paul Gilligan, our Chief Executive Officer (CEO), stated:
"We are delighted to partner with Shelbourne FC to build on the #NoStigma message within the community. As we continue to tackle the mental health challenges of the COVID-19 pandemic, this partnership is an opportunity to emphasise the importance of leaving mental health stigma behind and to highlight how supporting one another can positively impact a person's mental health journey."
He went on, "Our 2020 annual stigma survey showed that one in five of us has had a positive experience of talking about a mental health difficulty in our local community. Let's make this everyone's reality."
CEO of Shelbourne FC, David O'Connor, also said: "We are absolutely delighted to be able to announce this incredibly important partnership with SPMHS, and we look forward to working closely with their fantastic team on several innovative initiatives throughout the year. We strongly believe that football has a growing role to play in opening up the discussion around mental health and wellbeing, and, as a club, we are determined to play a leading role in advocating this. There is still a long way to go to normalise discussion and action around mental health, but we hope that this multi-faceted partnership with SPMHS will go a long way towards achieving that."
Shelbourne FC's Head of Media, Gavin White, added: "This partnership is a significant moment for our club as it has come to terms with the loss of two of our friends and supporters, as well as the death of Izzy Dezu, who collapsed and died during a Shelbourne FC Academy game in 2018. Coupled with the COVID-19 pandemic, we find ourselves compelled to lead through actions and directly employ the resources that can have lasting impacts on the young people in our community. Our young players have been unable to play the game that, for many, can be their highlights of their week, or simply an escape. Without this, it has been challenging for them and their coaches. These resources can help them learn to be mentally well, and kick out the stigma of feeling bad mentally. It will also show them that we're with them every step of the way, as we are with our supporters, coaches and volunteers."