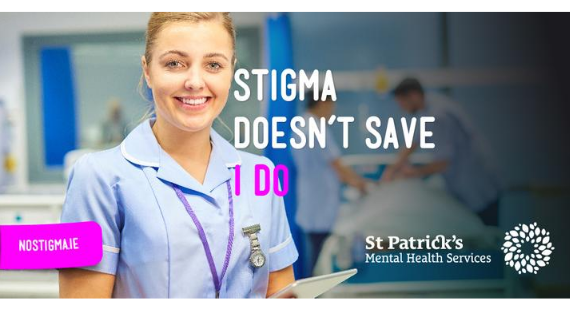 How can you support friends and family going through mental health difficulties?
One of the most helpful things we can do to create #NoStigma communities is to speak openly and comfortably about mental health with our friends and families. This can include offering support when a loved one may be experiencing mental health difficulties.
When a friend or family member is, or seems to be, going through mental health difficulties, it may feel overwhelming to know what to do. Not all mental health challenges will need professional help or intervention. Often, an opportunity to speak openly with a trusted family member or friend can have a very positive impact on our wellbeing and mental health.
What to do if you are worried about a friend or family member
Simply asking someone how they are doing and giving the time to listen is often the best first step if you are worried about a loved one.
When speaking to someone about mental health concerns, things that can help include:
Trying to make sure you do this at a time and place when you can give them enough focused attention and where they are likely to feel comfortable
Using open questions and directly asking how they are; for example, "how have you been feeling lately?"
Responding in a non-judgmental and supportive way to what they say, without feeling like you must provide solutions
Sharing whether you've been worried about them and why in a calm and non-judgmental way
Encouraging the person to seek more support, whether from friends, family or professional supports. For example, they could make an appointment with their GP or share their worries with other loved ones if they have not done so already.
How to be there when someone is recovering from a mental health difficulty
If a friend or family member has received a mental health-related diagnosis or is receiving professional mental health support, an important part of their recovery may be building up and using a support network.
Friends and family are key parts of support networks. At different stages, and depending on our relationship with someone, we may be in a position to offer valuable support. If you would like to offer help, it's often important that you are guided by the person themselves as to what might be most helpful.
This might include:
Letting a person know you are there for them if and when they might want to connect
Being flexible and patient, and recognising that getting back to the things you usually do together may take some time
Offering practical support to do things that may have become more difficult temporarily; for example, asking if there are tasks you can help with, such as mowing the lawn. While, generally, it's important that the person gets back to doing these things themselves as part of recovery, in the shorter term, practical support may be very welcome.
Planning enjoyable activities, such as going out for coffee or an exercise session together. It's important that this is at a pace that's right and achievable for the person.
What to do if you are caring for someone more directly
You may be more directly involved with a loved one's mental health recovery and providing regular care and support.
Our family information series offers guidance, insight and support for when you are helping a family member through a mental health difficulty. You can learn more about and watch talks from our family series here.
There are very good sources of information and resources for carers available that you may find helpful. This includes information and advice provided by the Health Service Executive (HSE).
Specific supports and programmes for carers are also available from different organisations, and include:
How to mind your own mental health
A vital part of caring for and supporting loved ones experiencing mental health difficulties is to care for your own mental health. This includes making sure you are
attending to your own needs, such as eating and sleeping well, and getting regular exercise
making time for yourself to do the things you enjoy
staying connected with others
keeping healthy boundaries for yourself.
You might find it helpful to read this guide on mental health and family caring from Mental Health Ireland and Family Carers Ireland for detailed advice.
What to do in a crisis
If someone urgently needs help, you can contact their GP, an out-of-hours GP service, or the local emergency department.
Crisis helplines are also available, including:
If someone you know is about to harm themselves or someone else, call the emergency services on 999 or 112. Stay with the person, or make sure someone stays with them, until they get help. Remove any potential means of harm from their space if safe to do so.
You can find more information from the HSE about mental health crisis supports here.
More information and support for families and carers
See more from our #NoStigma campaign