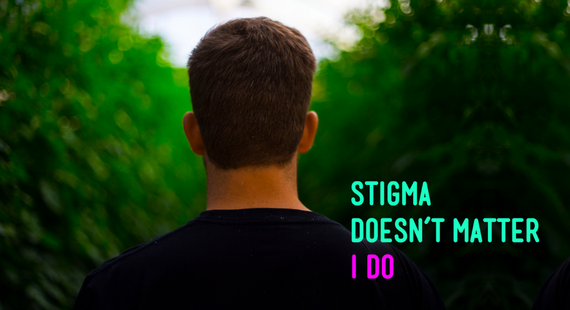 As part of our #NoStigma campaign, our team at St Patrick's Mental Health Services (SPMHS) explores how we can support young people's mental health.
Young people's lives were particularly impacted by the COVID-19 pandemic. School and college life was disrupted, and the usual social outlets, like football training or meet-ups with friends, interrupted for long periods of time. These, among other changes, will have been difficult to deal with, especially at a time of life when social development and relationships are so important.
While we shouldn't underestimate the resilience and adaptability of young people, it's also vital that their mental health and wellbeing is prioritised and supported. This is important within family and friend groups, but also among the wider community. 
Paul Gilligan, our Chief Executive Officer (CEO) here in SPMHS, has highlighted that protecting children's welfare and mental health must be a priority. He gives the tips below to support young people's mental health in daily life, particularly during the pandemic.
Encourage them to continue socialising face-to-face with their peers, while following restrictions. This can include, for example, meeting a friend for a physically distanced walk or taking part in sports, as and when safe to do so. It's also important to avoid over-use of online communication and social media.
Ensure they demonstrate physical affection to the people they can, when they can, and remind them there will be a time when they can return to doing this with their friends and family.
Allow them to talk about how sad, angry, or upset they are with the restrictions and the losses they have experienced, without making them feel guilty or ashamed that they are letting others down or are being weak.
Put information and risks into perspective for them and teach them how to manage these risks and any associated worry.
Getting parenting tips and advice
We've put together a list of further tips, resources and sources of support that might be helpful for parents.
Guidance and training

WIMS held a webinar for parents on supporting children's mental health, which you can watch below.

You might also be interested in this training course run by the National Parent's Council (NPC), in partnership with our team at SPMHS. 'Supporting Parents to Support Their Children's Mental Health and Wellbeing' helps parents to promote positive mental health and wellbeing in their children. The programme also explores how building resilience in children helps them to manage and cope with life stresses. Parents who attend the training will: 

Explore the factors that influence children's mental health and wellbeing
Learn how to build and nurture their child's resilience
Get tips on how best to support positive wellbeing in their child.

Blogs, podcasts and videos

Follow the links below to get more information on a range of parenting topics.

Blogs

Podcasts

Videos

Support and information