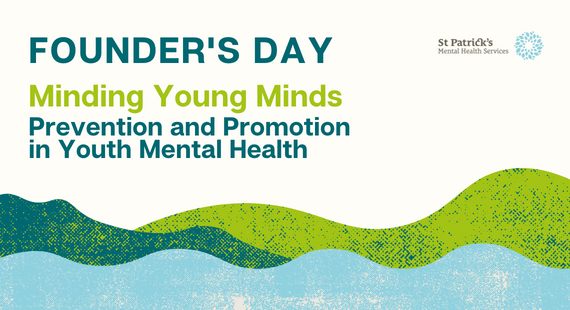 Our 2022 Founder's Day conference aimed to explore how we can build a better future for young people and protect youth mental health.
There has been a growing focus on youth mental health over the past number of years and an increased prevalence of mental health difficulties in society. With this in mind, at St Patrick's Mental Health Services (SPMHS), our annual Founder's Day conference considered how prevention and promotion strategies can play a key role in preventing mental health difficulties in young people, and how these can, in turn and over time, reduce the demand for specialist mental health services.
Children and young people's mental health
Taking place online on Friday, 25 November, Founder's Day came at a critical time, as findings from our 2022 Annual Attitudes to Mental Health and Stigma Survey revealed that 71% of parents worry about their child's mental health, with 24% having sought mental health services for their child. Additionally, Ireland's adolescent mental health services face several key challenges, including long waiting times for treatment and insufficient access.
Founder's Day explored current research in the areas of youth mental health and health promotion, and discussed the ways in which prevention and promotion strategies are being and can be put into action in Irish settings.
Speaking ahead of the conference, our Chief Executive Officer (CEO), Paul Gilligan, said: "Mental health promotion and prevention approaches are well recognised as being central to improving population mental health, and mental health plays a significant role in ensuring children have a happy and fulfilling childhood. We know that the onset of mental health difficulties typically occurs in childhood and adolescence, which makes this an optimal time for the introduction of mental health promotion and prevention strategies."
"It is vital that we invest in mental health promotion and prevention services, not only to alleviate unsustainable pressures on child and adolescent mental health services, but to establish strong foundations among our young people so that they're empowered and equipped with the tools and skills to live mentally healthy lives."
Watch the conference below
Expert speakers
Bringing together both national and international perspectives, the conference shared expertise from academics, educators, mental health practitioners, health promotion experts and young people with lived experiences of mental health difficulties.
A full conference programme is available here.
The opening address was delivered by Minister for Mental Health and Older People, Mary Butler TD. Professor Patrick McGorry, Director of Orygen Youth Health and Orygen Youth Health Research Centre in Victoria, Australia and Professor of Youth Mental Health at the University of Melbourne, gave the keynote address. Professor McGorry is known worldwide for his development and scaling up of early intervention and youth mental health services and for mental health innovation, advocacy and reform.
Other speakers included:
Professor Margaret Barry, the Established Chair in Health Promotion and Public Health at the National University of Ireland Galway, where she is also Director of the World Health Organisation Collaborating Centre for Health Promotion Research
Professor Mary Cannon, consultant psychiatrist in Beaumont Hospital Dublin and Professor of Psychiatric Epidemiology and Youth Mental Health in the Department of Psychiatry, Royal College of Surgeons in Ireland
Diana Chao, founder of Letters to Strangers, the largest global youth-for-youth mental health non-profit which has impacted more than 35,000 people on six continents
Blezzing Dada, mental health advocate with a focus on intersectionality
Doctor Alfgeir Kristjansson, expert in adolescent health behaviours with attention to substance use prevention and community health promotion and Associate Professor at West Virginia University
Professor Fiona McNicholas, Consultant in Child and Adolescent Psychiatry in Lucena Clinic, Rathgar and Our Lady's Hospital for Sick Children, Crumlin.
Dr Niall Muldoon, Ombudsman for Children in Ireland
Ruth O'Connell, mental health technical expert with UNICEF for the East Asia and Pacific region
Tiernan O'Neill, Principal of Corpus Christi School in Moyross, who developed the Moyross Education Support Programme.
Professor Paul Fearon, our Medical Director, said: "We are delighted to be joined at this year's Founder's Day conference by national and international experts, and a number of young mental health advocates, who will share their perspectives on the biggest issues facing young people and how they can be better supported."
Early intervention and new approaches
Professor Fearon continued: "This event is an opportunity to consider the current research and evidence base for preventative programmes, early interventions and promotion strategies in youth mental health, and how such programmes and strategies can reduce the prevalence of mental health difficulties in young people, and in turn, over time, help to reduce the demand for specialist mental health services. One such model being explored at the conference is the Icelandic Prevention Model, which uses a community-based participatory approach to identify risks and mobilise protective factors to prevent future substance use in youth."
"Central to the conference programme will be the inclusion of the voices and views of young people about how their mental health can be better supported. In addition to hearing from youth advocate speakers, a collection of perspectives from young people on the biggest issues affecting them and how we can enhance and protect their mental health will be shared throughout the event."
Voices of young people
Youth mental health advocate Blezzing Dada added: "I am delighted to be speaking at this year's Founder's Day conference to share my experience of being a Black-Irish mental health advocate and to be part of this important conversation around youth mental health, and effective promotion and prevention strategies."
"We are not all made up of one identity and it is important to hear a range of perspectives from those with lived experiences; for example, recognising diverse needs amongst Ireland's young people and understanding the significance of intersectionality and matters of equality when it comes to mental health."
"Young people from ethnic minority backgrounds experience unique challenges which call for greater understanding and responsiveness in youth mental health efforts."
Media queries
If you have press or media queries about our 2022 Founder's Day conference, please get in touch with our Communications team below.
Look at past Founder's Day conferences