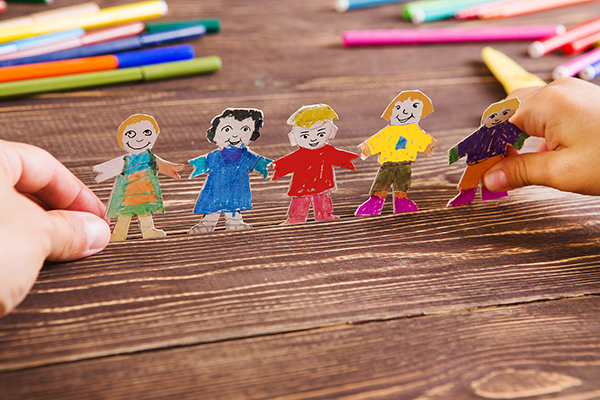 Emotions are what make us human. Protecting and enhancing our children's emotional wellbeing and mental health is the responsibility of humanity.
Over the last number of years, there has been an emerging awareness that mental health difficulties are exacting a very heavy toll on society, and particularly on children. This is being confirmed by a number of reports and studies all indicating that we have, across the world, what we could term a mental health crisis.
One in four people experience a mental health difficulty at some stage in their lives.
One in 10 children experience a mental health difficulty serious enough to require specialist help
Mental health issues affect every family.
Our children are suffering the most because they, as a result of their age and developmental capabilities, are more vulnerable and need more support. A recent report prepared by the European Network of Ombudspersons for Children (ENOC) indicates that, across Europe, mental health services for children are insufficient, patchy and, in some countries, non-existent.
The report outlines that:
A report launched this month by ECPAT (End Child Prostitution and Trafficking) indicates that Ireland, like many other countries, is not providing sufficient mental health services for children who are victims of sexual exploitation. Services for other vulnerable children are also deficient.
Early intervention is important.
The tragedy and shame of all of this is that we know that mental health difficulties are preventable, manageable and treatable. We know that, no matter how extensive a mental health difficulty is, a person can recover and live a fruitful life. We know what factors impact on mental health and the causes of mental health difficulties, and we know that early awareness-raising and intervention can make a real difference.
Taking a holistic approach to the child, defining mental health in a broad context, and emphasising that mental health is influenced by and impacts on all aspects of a child's life is vital. As the World Health Organisation states, good mental health is more than just the absence of mental health difficulties.
The ENOC position paper makes seven recommendations which, if implemented, would not only have a substantial impact on the number of children experiencing mental health difficulties, but would greatly improve the recovery outcomes for those children who experience such difficulties.
The recommendations are first and foremost children's rights-based. Not only grounded in the key international rights protocols and conventions, they are influenced by the experience and feedback of childrens' ombudspersons from across Europe and on the views of children themselves.
Children's strategy
The first recommendation calls for the development of a comprehensive rights-based national children's strategy, formed through consultation with children, aimed at creating a child-centred society and containing a defined mental health plan which needs to be adequately funded with implementation monitored. A specific focus on vulnerable children is an essential element. Ireland has such a plan, Better Outcomes, Brighter Futures, but its funding and implementation, particularly around mental healthcare, has been weak.
Mental health law
The second recommendation emphasises the need for mental health legislation, regulation and standards, monitored and inspected by an independent authority. This is the only way to protect children's rights and best interests within any mental health system, ensuring their right to give consent and to be consulted is respected, ensuring they are given adequate information, that they can make complaints, and that parents/carers cannot refuse necessary care for their children. While Ireland is one of the countries leading the way in terms of legislation and inspection, much still needs to be done to protect children's rights within the legislative system and to address services not meeting minimum standards.            
Mental health awareness
The third recommendation addresses the need to combat stigma, build awareness and enhance wellbeing by running specific programmes for children and programmes for the public in general, parents, the media, young carers, and professionals who work with children. Key to this is ensuring that comprehensive information is provided to all sectors of society in an age appropriate, evidence-based and comprehensible way. In Ireland, over the last ten years, many impressive awareness-raising and anti-stigma campaigns have been run by statutory and voluntary organisations. St Patrick's Mental Health Services (SPMHS) has being running our Walk in My Shoes campaign alongside initiatives run by the National Office for Suicide Prevention and See Change. While anecdotally these initiatives appear to be having an impact, objective evaluation is required.    
Inclusive schools
The fourth recommendation focuses on the essential need to create child-centred, mentally healthy, inclusive schools. Alongside encouraging the integration of social and emotional learning and skills development into the schools' curricula, this recommendation also emphasises the needs to
have the full range of mental health professionals available in the school
provide training for all education personnel on mental health
reduce bullying and stress related to education.
There is no doubt that Irish schools have done much to strengthen their work in this area. Many have integrated impressive programmes into their school curricula and have sought to build a safe, mentally healthy educational environment. Where they fall down is in being able to access help for children requiring specialist inputs, leaving the child in distress and placing an additional burden on teachers and other school staff who are not obtaining the specialist training required.  
Mental health in the community
Recommendation five focuses on the essential requirement for the provision of the highest standards of community-based mental healthcare for children. These services need to be comprehensive, accessible to all, providing early identification, and working together. The need to promote talk and activity therapies, alongside regulating medication prescribing, is emphasised. Ireland has failed and continues to fail on this measure. Child and adolescent mental health teams are extremely poorly resourced and continue to lose staff. As a result, waiting lists are unacceptably long and medication at times is the only option for children in distress.
Inpatient mental healthcare
Recommendation six deals with the provision of inpatient care and the need to ensure these services are rights-based. Consent, consultation, protection against unnecessary involuntary detention, and access to information are all key to providing the highest quality care. The importance of regulating and inspecting such services and particularly any freedom restricting practices, such as restraint, is a key principle. It is recommended that the use of seclusion be prohibited and that admission of children to adult units be also prohibited, unless absolutely necessary.
Protecting the child's continued engagement with their parents, friends, communities and education is reinforced. There is no doubt that Ireland's child and adolescent inpatient units are highly regulated. However, like community services, inpatient care is under-resourced and cannot meet demand, with few services meeting the standards required by the Mental Health Commission. Over 100 children are placed in adult inpatient units every year because of this under-resourcing.  
Mental health data
Recommendation seven deals with the need to gather essential data on mental healthcare incidence and practice and to conduct research on the key determinants of mental health difficulties in children and how they can be addressed, information that is crucial to policy and service planning. Ireland has a good base line on which to build, with the Health Research Board producing annual information on the use of mental health services. The drive towards electronic records, such as the eSwift system introduced in SPMHS, will also enhance our capabilities in this area. 
We need to commit to child mental health.
The ENOC recommendations give us a comprehensive, practical and implementable way forward, ensuring that we empower and support our children while protecting and enhancing their rights. A rights-based approach is not only the right way forward; it is the only way that will truly work.
Mental health difficulties serve to disempower. Through a rights-based approach, we serve to re-empower. Other models including the welfare and institutional-based models have failed us in the past, and it is essential that we learn from these mistakes.
We all have a societal responsibility to enhance and protect our children's mental health. We have a moral obligation to help our children when they experience mental health difficulties. One of the greatest obligations is on people who work directly in the area of mental health provision. As service providers, alongside governments and policy makers, we must examine our own practice; walk the walk and work constructively to do our best for children.
Essential for all of us is to take our lead from children themselves. Children, deep down, know what enhances their mental health, what negatively impacts on their mental health, what new challenges are arising and what helps when they experience difficulties. We must listen to them and be prepared to truly hear what they are saying.
In Ireland, over the last number of years, we have begun to face up to the many ways we have failed our children in the past. When it comes to mental health, we have made many advances, but we must do better.
We have the capability to create a society in which all children are given the opportunity to live a mentally healthy life and where children requiring help have access to a world class mental health service. All we require is the will and commitment.
Author
Paul Gilligan
Paul Gilligan, B.A, M.A, DipClin Psych, ApPSI, RegPsychol,  is a clinical psychologist and Chief Executive of St Patrick's Mental Health Services, the largest independent provider of mental health care in Ireland. He is an internationally recognised children's rights and child protection advocate and provides consultancy services to a number of child protection organisations in Ireland and Europe.
He is former Vice-Chairman of the National Children's Advisory Council and the Children's Rights Alliance. He is also former President of the Psychological Society of Ireland. Before taking up his current post with St. Patrick's, he was Chief Executive of the ISPCC. He is the author of "Keeping Your Child Safe" and "Raising Emotionally Healthy Children" and is a regular contributor to T.V., radio and print media.