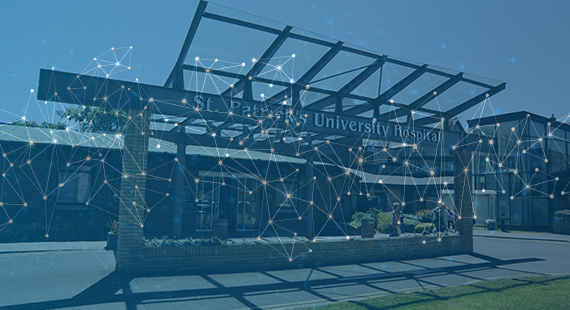 St Patrick's Mental Health Services (SPMHS) is the first hospital in Ireland to introduce a fully integrated electronic health record system.
The electronic health record, called eSwift, furthers our reputation as an industry leader within Irish healthcare.
eSwift was first introduced to our adolescent facility, Willow Grove Adolescent Unit, on 27 September. It then went live in both St Patrick's, Lucan and St Patrick's University Hospital on 11 October. The full implementation will be completed when eSwift goes live in our community Dean Clinics at the end of November.
What is an electronic health record?
An electronic health record is a digital version of a service user's paper chart which is updated and accessed electronically by healthcare providers. The service user's journey from referral and admission to care, attendance and discharge is recorded electronically.
The decision to move away from 270 years of paper-based records was made in order to improve the use of data analytics, which will help us enhance the experience of our service users.
The aim of eSwift is to improve delivery, safety and quality of healthcare for all service users through better access to information, while protecting privacy and confidentiality of all information.
It will provide a flexible and integrated process of care, and, using an evidence-based approach, improve overall management of health resources and services across the organisation.
What change does an electronic health record bring?
Our Chief Executive Officer (CEO), Paul Gilligan, commented on the positive changes eSwift will have on both the organisation and people using our services. He said: "For over 270 years, service user records have been paper-based. However, at SPMHS, our services are continually reviewed, changed and updated to ensure our service users can take advantage of the latest innovations."
"The implementation of the electronic health record will improve clinical processes, informatics capabilities and workflow efficiencies, improving mental health outcomes for those who use our services."
Orla Gogarty, Director of Information and Communications Technology (ICT), Business Development and Information Governance, expanded on the positive changes that eSwift will have for SPMHS and the care we provide.
She said:
"eSwift will bring a significant, modernising change to our organisation and offers a major opportunity to transform the way we provide and record our care to our service users. It will improve our information accessibility, quality and governance."
"An additional benefit is that it will streamline workflows and processes which support care delivery and facilitate service user communication and information-sharing between staff anytime, anywhere."
The following are just some of the ways eSwift will change and improve SPMHS on a day-to-day level.
Core data will be saved, so clinical staff won't have to record or ask service users for information twice.
The system will create letters, such as appointment letters, where the service users' address and appointment details will automatically be filled in.
Reports will be generated from the system data analysis can be done more easily (for example, a list of planned discharges for the next day).
Blood results will be available electronically as soon as the laboratory completes them.
Clinical staff will be able to see what medicines have been prescribed and administered.
Clinical staff will be able to see who is admitted to a bed, who is planned to be admitted and a service user's planned discharged date or if they are on leave.
Staff will also see the service user's care plan, and they will be able to see what appointments are planned for the service user.
eSwift will also improve the process of providing evidence of Mental Health Commission regulatory compliance.
Ms Gogarty added: "SPMHS and its staff have approached the implementation of eSwift with energy, commitment and focus. A strategic project of this scale is always challenging, but the clinical, technical and project management skill mix within the eSwift team has been a critical success factor. We look forward to continuing the delivery the benefits of eSwift for our service users and staff."
This is an exciting time for SPMHS as we strengthen services through eSwift and enhance our ability to provide the highest quality mental healthcare to people experiencing mental health difficulties.
Tags: eSwift
Learn more about our mental health services