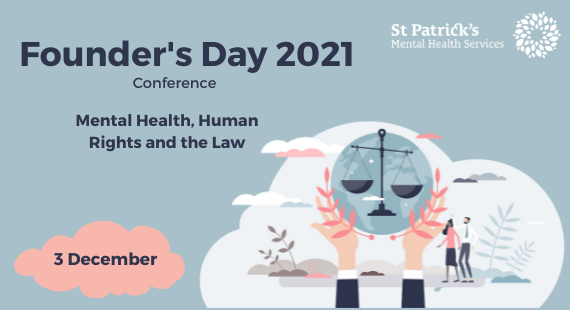 Founder's Day is the annual conference of St Patrick's Mental Health Services (SPMHS) and the 2021 theme is Mental Health, Human Rights and the Law.
The conference takes place on Friday, 3 December from 9.10am to 1pm and is set to explore the reform of the Mental Health Act 2001, related developments and the broader human rights context. This is set against the backdrop of the Government's approval of the Heads of Bill to amend the Mental Health Act earlier this year.
Founder's Day is held every year to recognise and continue the legacy of our founder, Jonathan Swift. Each year, the conference focuses on a different area related to mental health, bringing together national and international academics, clinicians, practitioners and all those with a keen interest in mental health developments.
Key conference topics
With a variety of speakers and diverse perspectives, this half-day conference will address a number of key topics including:
the proposed reform of the Mental Health Act 2001 and its significance for service providers, healthcare professionals, service users, carers and supporters, and other key stakeholders
progress on the implementation of the Assisted Decision Making (Capacity) Act 2015 and its relevance to the rights of people experiencing mental health difficulties
understanding the role and importance of the United Nations Convention on the Rights of Persons with Disabilities (UNCRPD) from a mental health perspective
deprivation of liberty safeguards
amending and extending our mental health law
perspectives on human rights in mental health
a service user perspective on mental health legislation and its impacts
the implications of mental health laws from a family, friend, carer or supporter perspective.
Broad range of perspectives
Minister for Mental Health and Older People, Mary Butler TD, will deliver an opening address to attendees.
Gareth Owen, Reader in Mental Health, Ethics and Law, King's College London, and Honorary Consultant Psychiatrist at the South London Maudsley NHS Foundation Trust will deliver the keynote address on The intersection of mental health and mental capacity law: A Gordian knot?.
The full speaker line-up also includes:
Timely opportunity for discussion
Speaking about this year's Founder's Day conference, our Medical Director, Professor Paul Fearon, SPMHS, said:
"With over 120 proposed changes to the Mental Health Act 2001, and the Government's approval of the draft Heads of Bill in July, this year's Founder's Day conference is a timely opportunity to hear from a variety of key stakeholders, including service providers, legal professionals, service users and their supporters, about the implications of the proposed legislative reform.
It also provides an opportunity to consider and discuss the human rights context and what needs to be done to ensure Ireland is continuously meeting its obligations under the UNCRPD.
We look forward to welcoming a diverse range of speakers, each with a relevant and important perspective to share, to foster an open dialogue about the key issues around mental health legislation and human rights."
Watch the conference
If you missed the conference, you can now watch it back below. 
Learn more about Jonathan Swift