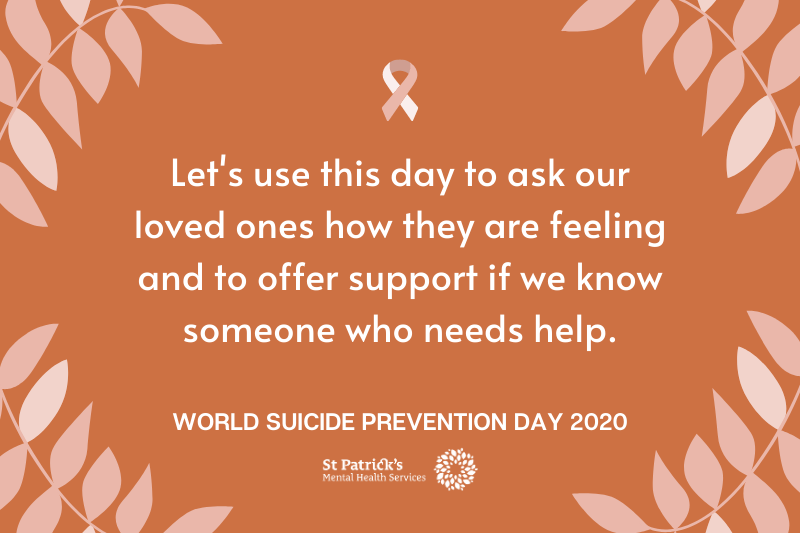 On World Suicide Prevention Day 2020, St Patrick's Mental Health Services (SPMHS) wishes to emphasise the importance of asking our loved ones how they are feeling, and to consider how to offer support if someone needs help.
This year, many of us are experiencing challenges to our resilience and wellbeing due to COVID-19.  The recent SPMHS stigma and attitudes survey showed that over a quarter of respondents, or their family members, are experiencing mental health issues for the first time as a result of the pandemic. In addition, one fifth of respondents said that they would not share suicidal thoughts with anyone.
With this in mind, SPMHS is urging everyone to use this day to take a moment to ask their loved ones how they are feeling, and to reflect on how they can offer support if someone they know needs help. 
Medical Director at SPMHS, Professor Paul Fearon, shares some advice surrounding the importance of this message: "According to our research, after their GP, the majority of people experiencing a mental health difficulty will first confide in a close friend or family member.  This is a very positive and important step, and can be the result of someone acknowledging that they need to talk, or simply due to someone just asking the right question: "how are you?" or "are you doing okay?"."
"As we enter into a longer-term phase of the pandemic, many families will be experiencing mental health challenges in their home for the first time. Instead of approaching this challenge with fear, empower yourself and others by focussing on what you can do, and how powerful that impact can be."
What can you do to support a loved one experiencing mental health difficulties?
Support through listening, and ask open questions.

Not all mental health challenges will need professional intervention, and, often, an opportunity to speak honestly to a trusted family member or friend can provide a significant positive impact on our wellbeing and mental health.    

Access reliable resources online.

There are now more online resources than ever before about how to support a loved one who is experiencing mental health difficulties.  Provided that these resources are from a reliable source, the information can be very helpful to anyone, particularly those who may be afraid of 'saying the wrong thing', or knowing when to suggest seeking further supports.       

Talk to someone to help you in your role as a partner, friend or supporter.

Our own wellbeing can take a back seat when someone is in crisis especially in a family situation. Factor in self-care and support from a trusted loved one or health professional into your own life to reduce the risk of this affecting your mental health. 
Getting help
If you feel it is required, never be afraid to encourage a friend or family member to make an appointment with a GP or relevant support service.