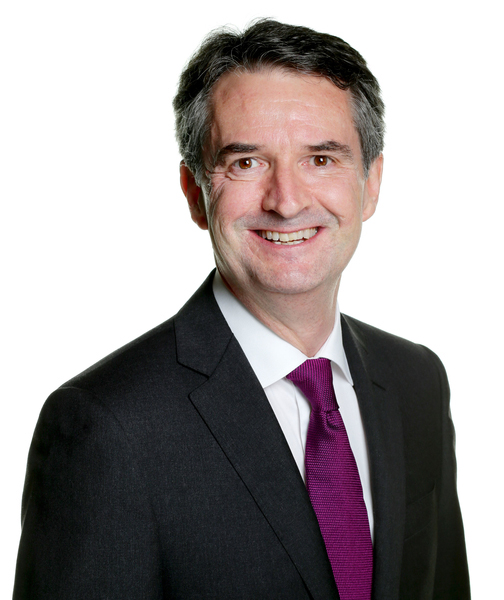 Professor Paul Fearon assumes the position of Medical Director as of 1 January 2020
St Patrick's Mental Health Services is pleased to announce the appointment of Professor Paul Fearon as our new Medical Director, assuming responsibility for clinical activity in an organisation which sees approximately 3,000 inpatient admissions; 15,000 day care attendances; and 17,000 outpatient appointments a year.
Professor Fearon acted as our Assistant Medical Director for the past four years, and took on the Medical Director position from 1 January 2020.
Prior to this appointment, Professor Fearon graduated from Medicine in University College Dublin in 1988, undertaking a subsequent five years' postgraduate training in general medicine before specialising in psychiatry. Completing his psychiatric training at the Maudsley Hospital in London, he then worked in the South London and Maudsley National Health Service (NHS) Foundation Trust as a consultant general adult psychiatrist for seven years. During this time, as a senior lecturer at the Institute of Psychiatry in London, he headed the Section of Social Psychiatry and Epidemiology.
In 2008, Professor Fearon returned to Dublin to take up his posts as Clinical Professor in Psychiatry with Trinity College Dublin and General Adult Consultant Psychiatrist in St Patrick's University Hospital. He has published over 100 peer-reviewed papers which largely focus on the quality of care in mental health services and the epidemiology and role of socioenvironmental factors in schizophrenia and bipolar disorder.
Professor Fearon replaces Professor Jim Lucey as Medical Director after his term of office of twelve years came to an end. In this role, Professor Fearon will play a key role in the progression of our five-year strategy, Changing Minds. Changing Lives. 2018 – 2022, and is responsible for the organisation, management and development of our clinical services and the formulation and implementation of clinical policies.
Speaking of his appointment, Professor Fearon said:
"I would like to thank the Board and management of St Patrick's for this wonderful opportunity. St Patrick's stands as a recognised, respected leader in mental healthcare and as an advocate for the rights of people experiencing mental health difficulties. Together with the Board, senior management and staff of St Patrick's, I am looking forward to helping to further develop this longstanding innovation and to ensuring that St Patrick's remains relevant and attuned to the mental health needs of our service users."
Our Chief Executive Officer, Paul Gilligan, stated:
"I am delighted to welcome Professor Fearon to the role of Medical Director. Professor Fearon brings invaluable expertise and knowledge built through many years of psychiatric research and practice, as well as a profound commitment to the highest quality, human rights-driven mental healthcare. I have no doubt that he will make an important contribution in reinforcing the exceptional care and treatment we provide to our service users, and in empowering a mentally healthy society".
Mr Gilligan added:
"On behalf of the Board and management of St Patrick's, I also wish to thank Professor Lucey for his exceptional contribution as Medical Director over the past 12 years. Professor Lucey placed our service user's needs and wishes at the centre of practice here in St Patrick's, and this is a legacy we are proud to continue. We look forward to working with him into the future as he resumes his role as one of 19 consultant psychiatrists in our multidisciplinary teams".
St Patrick's Mental Health Services announces appointment of new Medical Director