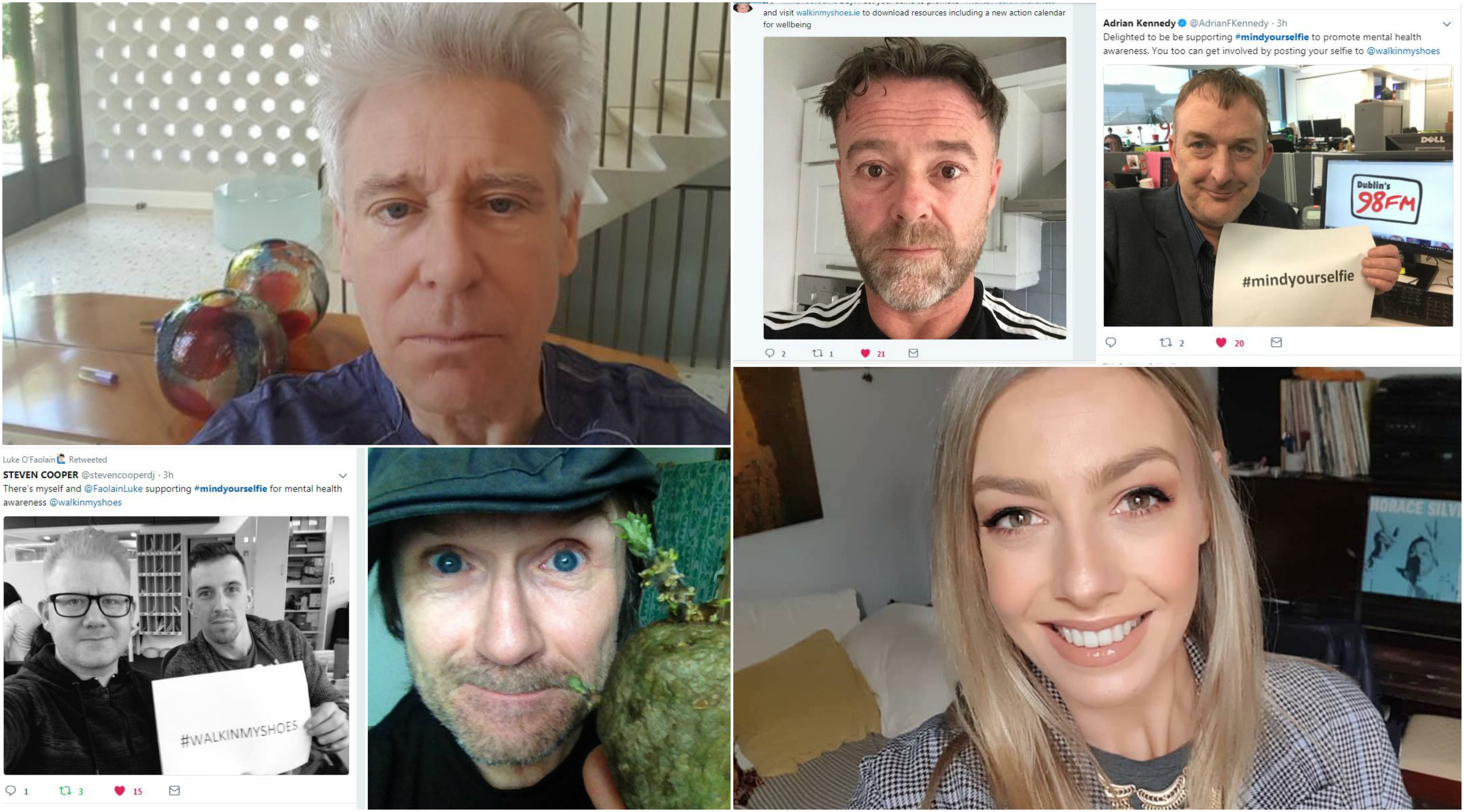 Irish stars, including U2's Adam Clayton and RTE's Blathnaid Treacy, have been sharing their selfies on social media all day in support of Walk in My Shoes' #MindYourSelfie campaign.
Now in its third year, the mental health campaign is asking the public to post a selfie to their social media accounts today, Friday 16th March, using the hashtag #MindYourSelfie.  
Fair City actor Eric Lalor, actor Paddy Courtney and 98fm presenters Adrian Kennedy, Steven Cooper and Luke O'Faoilean are among the Irish well known faces that are posting selfies on social media to support the campaign.    
The campaign is raising awareness of the #MindYourSelfie School Resource Packs, which were designed by Walk in My Shoes - a mental health awareness initiative by St Patrick's Mental Health Services. 
These activity packs are available to download on the Walk in My Shoes website and offer free classroom resources for Primary and Secondary schools. Resources include Mindfulness Audio Clips, a Selfie 'Steem activity, a brand-new Wellness Activity calendar and much more.
Paul Gilligan, CEO of St Patrick's Mental Services, said: "For the past two years, many of Ireland's top celebrities got behind this campaign, helping us spread the message of positive mental health in the classroom.  The #MindYourSelfie resource packs have proved to be popular, as they are both fun and informative for teachers and students alike and they have been downloaded over 70, 000 times since they were first launched.
"The key message of the campaign is to encourage people to take responsibility for their own mental wellness by trying to live mentally healthy and by taking action when they need support."
U2's Adam Clayton echoed this sentiment: "#MindYourSelfie is a campaign I am delighted to support, because it encourages young people to engage with their wellbeing and mental health from an early age.  This is a conversation which needs to be part of all our lives, and it is important to give children the opportunity to participate in an informed, supportive – and fun - environment alongside their peers."
For the last two years, #MindYourSelfie was all over Irish social media, with the likes of Hozier, Steve Garrigan of Kodaline, Keith Barry, Bressie and Dancing With The Stars and camogie star, Anna Geary, all taking part. 
TV host Blathnaid Treacy discussed this, stating: "#MindYourSelfie really caught the imagination of the social media world for the last two years, which was fantastic as it's a really worthwhile campaign. I am delighted to be an ambassador for Walk in My Shoes and help raise awareness for these packs that bring so much conversation and knowledge about mental health to the classroom.
#MindYourSelfie Resource Packs