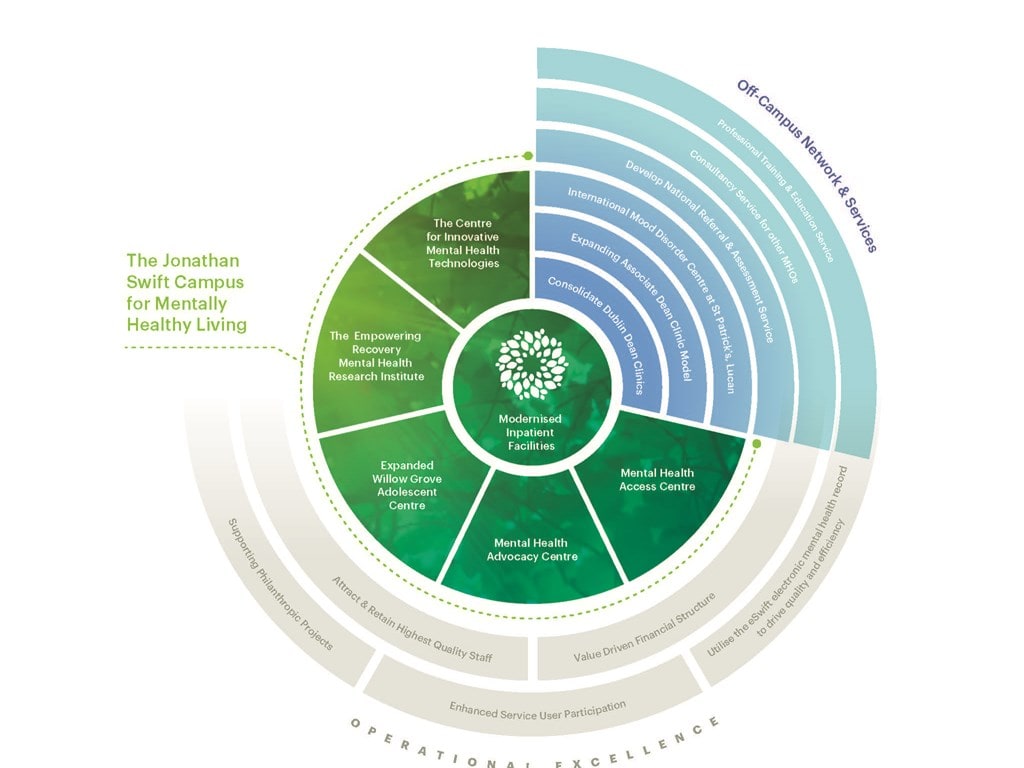 St Patrick's Mental Health Services has today unveiled a new five-year Strategy, Changing Minds. Changing Lives 2018-2022 which makes a clear statement on the Organisation's commitment to the development of its physical infrastructure, national network and operational excellence.
The co-location of expertise, multidisciplinary teams and outreach initiatives is pivotal for the development and delivery of excellent mental health services.  At the heart of the Changing Minds. Changing Lives 2018-2022 plan is the establishment of a national centre for excellence in Mental Health on the grounds of St Patrick's University Hospital in Dublin.  Grounded in a strong human rights framework and a recovery model of service delivery, the Jonathan Swift Hub for Mentally Healthy Living will comprise of world-class research, innovation, and advocacy centres along with enhanced adolescent and in-patient services.  The aims of this accessible-to-all national centre will be to provide a full range of mentally healthy living initiatives for the wider population alongside the provision of recovery-based treatment services for those with mental health difficulties.
Additional elements of The Jonathan Swift Hub for Mentally Healthy Living will include:
A New Mental Health Access Centre which will house all of the Organisation's current and future day services and will expand on the work of the Walk in My Shoes campaign by providing a range of mental wellness initiatives for the general public, schools, community groups and carers.
The Empowering Recovery Mental Health Research Institute, a major international centre at the forefront of enlightened and pioneering research in the area of mental health.
The Centre for Innovative Mental Health Technologies developing cutting-edge e-mental health, technology-based interventions and supports for a range of mental health difficulties.
The Mental Health Matters Advocacy Centre which will act as a coordinating voice and a primary advocacy body promoting the greater understanding of mental health difficulties in Ireland and beyond.
Expanded Willow Grove Adolescent Service which will see an increase to 20 in-patient beds with the developments of an all-new comprehensive day programme.
Expanded and Modernised in-patient facilities in the form of a newly constructed 50-bed wing at St Patrick's University Hospital in addition to ongoing capital investment in existing facilities.
In addition to this vision, St Patrick's Mental Health Services are committed to ensuring that their national off campus service network, which complements the significant additions to the Dublin campus, ensures that their services and benefits of approach are within reach for as many people who need them as possible. Some of these services will include:
Provision of a dedicated International Centre for the Treatment of Mood Disorders at St Patrick's, Lucan Co. Dublin;
Centralisation of the various Dublin Dean Clinics which provide local, off-site services into one location, allowing for the implementation of a more holistic and co-ordinated approach
Development of a National Referral and Assessment Service
Establishment of a Consultancy Service for other Mental Health Organisations
Additional professional training and education for Irish mental health professionals
Speaking at the launch of Changing Minds. Changing Lives 2018-2022, Mr Jim Daly Minister of State at the Department of Health with responsibility for Mental Health and Older People said 'I welcome the launch by St. Patrick's of its new five-year Strategic Plan. It reflects the views of staff, service users and other stakeholders to enhance the already excellent reputation of this facility. The Plan is rightly ambitious in its scope, ranging from Prevention and Early Intervention through to improved Recovery models of care. I look forward to the continued good co-operation of the statutory mental care services with St. Patrick's over future years.'
CEO of St Patrick's Mental Health Services, Paul Gilligan also added, 'We at St Patrick's Mental Health Services are driven by a commitment to provide the highest quality mental health care, to promote awareness of mental health and to protect the rights of those who experience mental health difficulties.  This new strategic plan sets ambitious but very achievable targets, while also reaffirming our commitment to empowering those who experience mental health difficulties to be active in shaping the legislation and services which impact their lives. We are confident that in partnership with those who experience mental health difficulties and through the commitment and initiative of our staff, Board of Governors, management and volunteers, the aims of the strategy will be achieved'.
The full Changing Minds. Changing Lives 2018-2022 Strategy is available here.