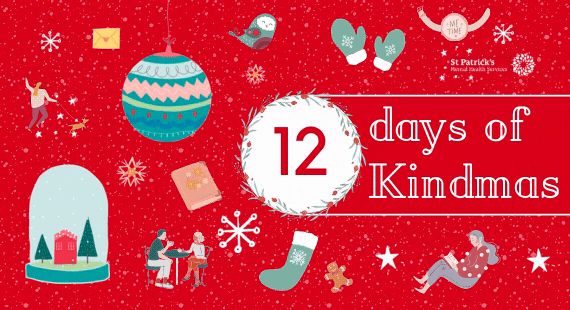 Shine a light on yourself and others with our #12DaysOfKindmas campaign, which kicks off on 8 December to encourage kindness and compassion over the festive season as a way to collectively mind our mental health after a very difficult year.
Celebrating kindness and wellness
With COVID-19 bringing significant changes to our daily lives, and as we prepare for what will be an unusual holiday season for many, minding our mental health and wellbeing should be a top priority.
From 8-19 December, we will share a daily initiative on social media as part of #12DaysofKindmas, including:
Celebrating acts of kindness, with a social media competition to nominate someone who was kind to you during the year
A #FestiveFive invitation to share your festive film, song or food favourites
Guides and tips for practicing mindfulness over the festive period
Blogs and wellness resources, exploring healthy attitudes to food over the holiday season, self-care practices, a gratitude journal, Christmas eCards, winter wellness tips, dealing with grief at Christmas and more.
Thanking those who have gotten us through the year
On day four of the campaign, mental health charities Mental Health Reform, SeeChange,and Samaritans Ireland will get involved in a very special initiative focused on sharing gratitude.
On 11 December, as the sun sets at 4.06pm, we're coming together to invite people to light a candle and share a message of thanks on social media for someone who has been helpful this year, whether it's a friend who is always on the other end of the phone, a healthcare worker who provides invaluable care, or a friendly shop assistant at a local store. By joining together to share our gratitude, we hope to inspire kindness and compassion. 
Practicing self-kindness and empathy
Our Chief Executive Officer, Paul Gilligan, said:
"This year, with the curtailment of the usual Christmas festivities, and after what has been a difficult year with notable psychological impacts on us all, we are encouraging people, young and not so young, to focus on practicing self-kindness and empathy to others. Taking time out for self-care and a kind word to someone who is feeling low will make a huge difference to our own or a loved one's mental health. The #12DaysofKindmas campaign is an opportunity to consider how we, and others, are feeling, and to spread messages of hope and solidarity this festive season."
Having a mentally healthy Christmas
We are also sharing some tips on how to have a mentally healthy Christmas while navigating the ongoing public health guidelines.
Follow the campaign on social media
Use the hashtag #12DaysOfKindmas to take part in the campaign.