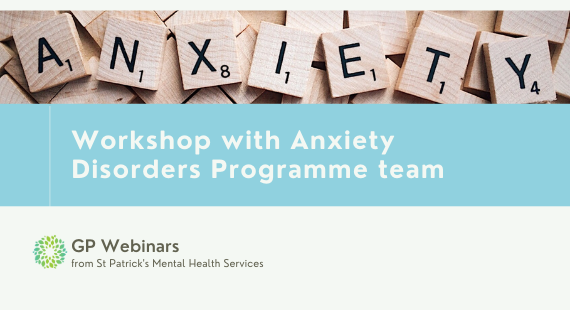 St Patrick's Mental Health Services (SPMHS) invites GPs and healthcare professionals to our 2021 series of GP Webinars.
As part of this webinar series, we are holding a question and answer workshop for GPs, focusing on the theme of anxiety, taking place from 11am to 12pm on Friday, 18 June.
Dr Michael McDonough, Consultant Psychiatrist and Head of our Anxiety Disorders Programme team, and members of the programme's team will explore assessments and referrals for anxiety presentations; the impact of COVID-19 on anxiety presentations; managing complex presentations of anxiety in the GP surgery; and therapy for anxiety disorders. We established the programme in 2005; it is the only specialised anxiety service in the country, and caters for a wide range of anxiety disorders. It is delivered by a multidisciplinary team and offers service users a combination of cognitive behavioral therapy, psychiatry and occupational therapy to assist them in the management of their anxiety.
Each part of the session will be divided into the sub-themes outlined above. GPs will have the opportunity to ask any questions they may have live during the webinar, but we would encourage attendees to submit questions in advance by emailing communications@stpatsmail.com.
This webinar is tailored for GPs, and is accredited for one Continuous Professional Development (CPD) point from the Irish College of General Practitioners (ICGP). Please note that only those who attend the live webinar are eligible for CPD points.