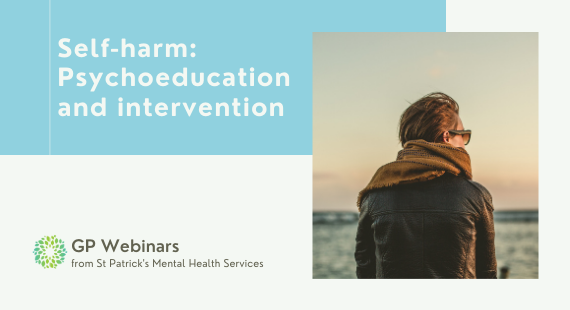 St Patrick's Mental Health Services (SPMHS) is hosting a series of GP Webinars in 2021.
In this one-hour webinar, taking place from 7.30pm on 26 May, Dr Kevin O'Hanrahan and Dr Ruth Goarke, Clinical Psychologists at SPMHS, will deliver a practical self-harm psychoeducation presentation for GPs, as well as exploring self-harm interventions and how to respond to self-harming behaviours in the GP surgery.
This webinar is tailored for GPs, and is accredited for Continuous Professional Development (CPD) points from the Irish College of General Practitioners (ICGP); the number of points available will be confirmed shortly. Please note that only those who attend the live webinar are eligible for CPD points.