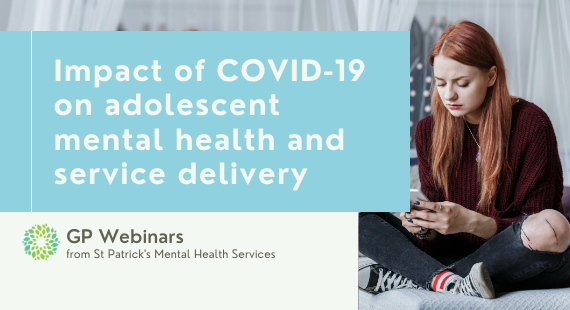 St Patrick's Mental Health Services (SPMHS) invites GPs and healthcare professionals to our 2021 series of GP Webinars.
The COVID-19 pandemic and its associated public health restrictions have had significant impacts on mental health over the past year, and adolescents make up one cohort where the mental health implications are particularly evident.
Due to the closures of schools, uncertainty around exams and social isolation, many young people are experiencing mental health difficulties for the first time, and pre-existing mental health difficulties have been exacerbated.
In this one-hour webinar, Dr Aileen Murtagh, our Assistant Medical Director with Special Responsibility for Adolescent Mental Health Services, and Dr Una Dennison, Consultant Child and Adolescent Psychiatrist at SPMHS, explore the impact of the pandemic on adolescent mental health.
Their talks will be followed by a live question and answer session. GPs can submit questions in advance by emailing them to communications@stpatsmail.com, or ask questions during the webinar through the event platform.
This webinar is tailored for GPs, and is accredited for one Continuous Professional Development (CPD) point from the Irish College of General Practitioners (ICGP). Please note that only those who attend the live webinar are eligible for CPD points.
Find more information and resources for GPs