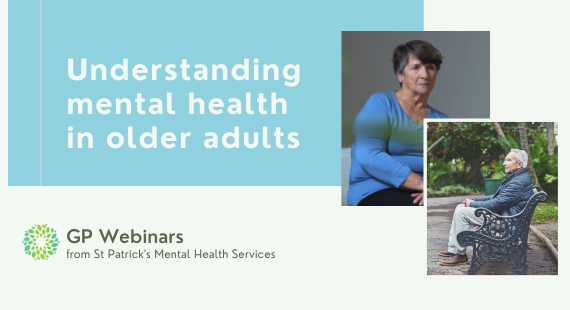 St Patrick's Mental Health Services (SPMHS) is hosting a series of GP Webinars in 2021.
In the first of the series, this one-hour online event will see Dr Aisling Collins and Edel Finnegan from the Older Adult Service at SPMHS explore the diagnosis of depression in older adults, particularly in the context of the under-diagnosis of depression, and also look at older age psychiatry social work in practice.
The presentations will be followed by a short, live question and answer session with Dr Aisling Collins, Edel Finnegan, and Dr Declan Lyons, Consultant Psychiatrist at SPMHS. GPs can submit questions for the team in advance by emailing them to communications@stpatsmail.com, or ask questions during the webinar through the event platform.
The Older Adults Service at SPMHS is a dedicated service for people aged over 65 with mental health problems and illness, including depression; anxiety disorders; substance use disorders; dementia; schizophrenia and bipolar disorder. The service promotes wellness and functional independence for the over-65s.
This webinar is tailored for GPs, and is accredited for Continuous Professional Development (CPD) points from the Irish College of General Practitioners (ICGP); the number of points available will be confirmed shortly. Please note that only those who attend the live webinar are eligible for CPD points.
If you are not a GP but interested in attending other mental health-related events, please see our upcoming schedule here.
Find more information and resources for GPs