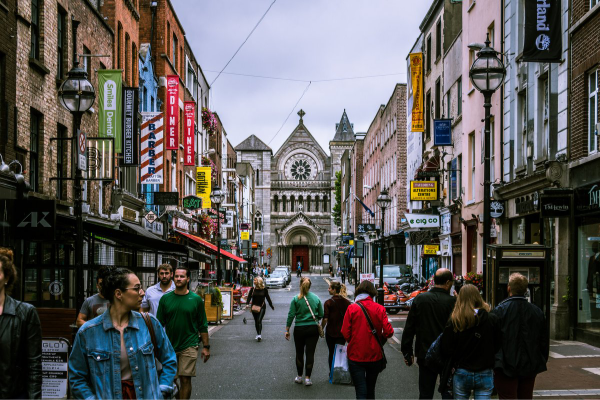 Transitioning from life before and after COVID-19 restrictions will be a personal journey for each of us. Paul Gilligan, clinical psychologist and Chief Executive Officer here at St Patrick's Mental Health Services, explores how we can deal with these changes.
The easing of restrictions is a fantastic development, signifying that society is coming to terms with the COVID-19 pandemic. Being able to do things we weren't able to do for the last two years will have a positive impact on our psychological wellbeing. However, when and how this occurs will be part of the very personal psychological journey each of us has been on since the pandemic began.
This is a time to feel optimistic, empowered and hopeful. However, it is also important to recognise that there has been and will continue to be significant psychological fallout from the past 18 months.
Many of us will be experiencing psychological effects equivalent to post-traumatic stress disorder (PTSD), the impact of which will be felt at different stages in our recovery journey. This will be particularly apparent if we have experienced significant losses, isolation or sickness. Most of us will have increased anxiety; some of us will be feeling depressed; while those of us working on the frontline, or with pre-existing mental health difficulties, will have been presented with particular psychological challenges during the pandemic.
The easing of restrictions will not resolve these impacts overnight and, for some, particularly those with high social anxiety or health concerns, they might even exacerbate them.
There are a number of ways we can best resolve the psychological impacts and manage the new challenges. 
Take our time
The lifting of restrictions has brought a type of societal euphoria, making it feel like we should be doing all the things we weren't allowed to do as quickly as possible. But it is important we take our time, moving only as fast as we feel psychologically ready to, ensuring we feel safe, secure and confident of managing any anxiety we might feel. Informing ourselves of why the restrictions are gone, and what the risks actually are now, is important.   
Back ourselves
Research indicates that building our emotional health involves focusing on three core things: believing that we are loved and are lovable, believing that we are good people, and having the ability to be happy and to see happiness. Backing ourselves involves embracing and reinforcing these three things about ourselves.
Trust others
The people who care about us want to do what is best for us. They might get it wrong at times, but, most often, they will protect our interests. Don't be afraid to tell them you trust and have faith in them. This involves not being afraid to recognise and express how we feel to them, being true to ourselves, and listening to what they say with a positive mindset.
Embrace uncertainty
Uncertainty is part of living so, to embrace it, we must give it meaning, rather than fight against it. Controlling what we can and accepting that there are things we can't control helps.
Have a plan
If the restrictions being lifted is causing us more anxiety or mental health distress, we should remember five key steps:
staying calm
speaking to someone
forming a strategy
maintaining stamina and not losing hope.   
Be prepared
It is important to develop an individual plan which contains an emotional health toolbox, a daily emotional health plan, a mechanism to recognise triggers and early signs of distress, and an action plan to address problems is important. This will help prevent difficulties arising and help us better deal with difficulties when they do arise.
The psychological challenges presented to us all through the COVID-19 pandemic have been substantial in coming to terms with our own and others' mortality and dealing with many emotional adversities. Over the last two years we have also learnt how much psychological resilience each of us has.
We are hopefully in the last stages of the recovery journey, a stage we can, with the right approach, manage and thrive through.