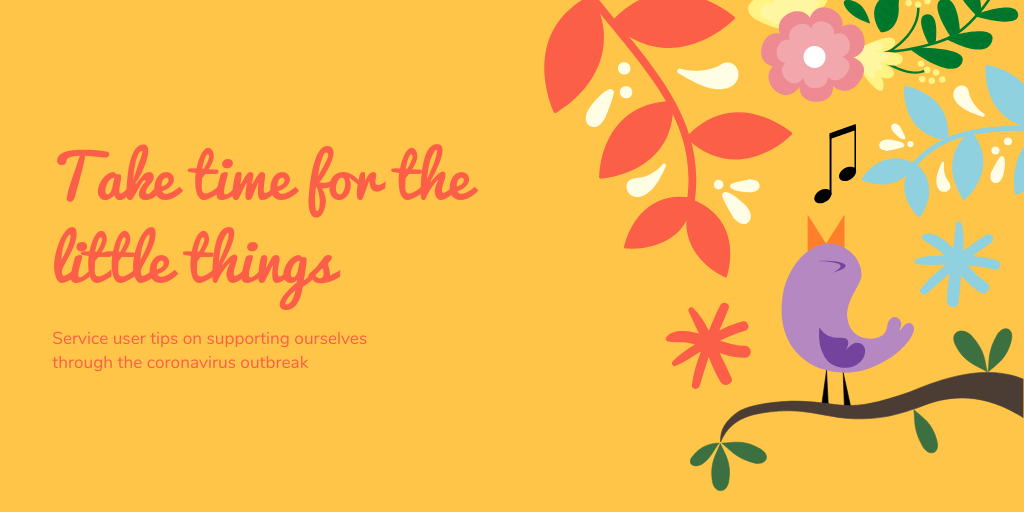 As the impact of coronavirus is felt by many, one of our former service users shares their tips and words of encouragement which can help us to look after our mental health at this challenging time.
In these times, more than ever, it is so important to live in the "now" and not to project too far into the future: we now know how fragile life is with the effects of COVID-19.
Something I like to do to manage my anxiety is to get out to my garden. This is a great time to see plenty of bird activity, for example, as they feed and nest in springtime. I feed nyjer seed to the goldfinches in my small garden daily which they adore: they always return for more. I also have visitors such as chaffinches, collared doves, woodpigeons, blue tits, great tits, coal tits and sparrows - an array of birds! I also like to take time to enjoy the flowers on trees and hedgerows: this is real beauty, in my opinion.
Embrace this; take a little time each day to "notice" this natural beauty around you. I feel it helps me to relax by watching nature in full bloom, and this too can help you.
I know we don't feel like smiling much at the moment, but, be mindful, a smile makes a difference to your wellbeing and others!
The word "relax" is a great word to focus on. Breathe deep and release. This is so important to managing anxiety.
And don't forget - we will prevail from this. Keep strong, keep safe everyone.