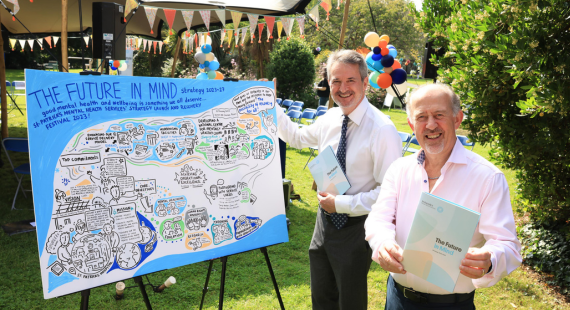 St Patrick's Mental Health Services (SPMHS) has officially launched our new five-year strategy.
On Saturday, 2 September 2023, we launched The Future in Mind, our new organisational strategy.
With a significant shift in how mental healthcare is being delivered, as well as growing demands on mental health services across Ireland, our 2023-2027 strategy outlines a number of ways we at SPMHS will play our part in responding to some of the demands and issues facing mental healthcare.
Over the course of this strategic period, we will:
expand our reach by enhancing

 

remote care

 

and

 

Homecare services
expand

 

day care services
modernise inpatient facilities
establish a first-in-the-world national centre for mentally healthy living that will include the development of interactive and educational programmes grounded in best practices for mental health promotion
expand

 

research

 

outputs through the development of an international research centre
establish a dedicated training centre that will advance the skills and competencies of those working in the mental healthcare sector.






At the event to launch the strategy and to celebrate recovery, our Chief Executive Officer (CEO), Paul Gilligan, said:
"As the world evolves, how mental health services respond to the diverse needs of society needs to evolve with it, and the challenges we face in the future will not always be the same as today. SPMHS' new strategy commits us to ensuring an adaptable and sustainable mental healthcare service."
"By enhancing and expanding our remote services and day care services, and investing in our inpatient services, we can respond to service users' needs at every stage of their recovery journey. While inpatient care remains at the heart of our operations, remote care has the potential to become another cornerstone of our human rights ethos by providing choice and empowerment."
"This new strategic plan for the coming five years re-affirms our mission to provide the highest quality mental healthcare and to make a positive impact on the lives of those we provide care and treatment to."
Through the hard work and commitment of the staff and Board of SPMHS, and the trust service users place in the organisation, this strategy will take SPMHS on a transformative journey to make mental healthcare more accessible, inclusive, and empowering for all.
Watch our video on The Future in Mind
Download our strategy document