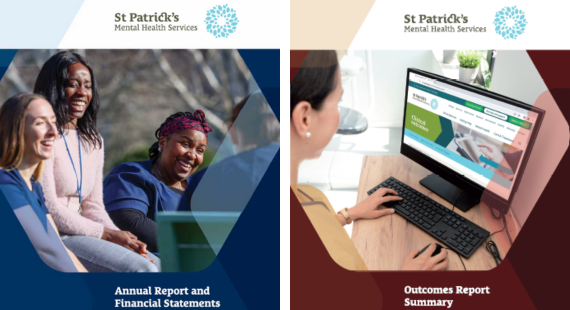 The 2022 Annual Report and Outcomes Report from St Patrick's Mental Health Services (SPMHS) show our ongoing adaptability and commitment in delivering high-quality mental healthcare.
These reports demonstrate that, while 2022 came with its challenges, it was also a year of significant progress.
While the worst of the COVID-19 pandemic moved past us in 2022, other geopolitical events which arose, such as the outbreak of war in Ukraine and the large spike in the inflation rate, had an impact, as they did with almost every other organisation.
However, as our Chief Executive Officer, Paul Gilligan, says, in 2022, "challenges new and old, expected and unexpected, do not deter us from our ongoing commitment to realising our vision; a society where all citizens are empowered and given the opportunity to live mentally healthy lives".
Throughout 2022, we continued to play a vital role in the delivery of mental health services in Ireland that are high-quality, multidisciplinary, evidence-driven and human rights-based.
As well as providing inpatient care through our three approved centres – St Patrick's University Hospital (SPUH), St Patrick's Hospital Lucan, and Willow Grove Adolescent Unit – we continued to experience high demand and strengthen delivery of our day services and community Dean Clinics. We also leveraged our technologies to solidify our remote and Homecare services as integral parts of our offerings, innovatively supporting thousands of individual and group appointments across all care pathways.
Outcomes Report
Our 2022 Outcomes Report marks its 12th edition. We produce this report every year to measure and assess our clinical care pathways, clinical governance processes, clinical programmes, and service user experience surveys.
The summary Outcomes Report gives an overview of analysis of some of the clinical outcomes for our services. You can find more details of the outcomes for all of our services in the full Outcomes Report. 
Key findings from the full report are also outlined within the tables below.
Service delivery
Overall clinical activity increased by 9% in 2022; care and treatment were delivered by approximately 400 clinicians to 4,064 service users. Our Support and Information Service received a high volume of interest with 11,555 contacts made.
Across our three approved centres, there was a total of 105,365 inpatient and Homecare admission days. The rapid deployment of technology-enabled care, initially in response to the COVID-19 pandemic, was seamlessly integrated and embedded into our suite of services. In 2022, 22% of our core activity was delivered through Homecare.
Clinical activity in our day services grew by 12.9%, with 19,797 attendances. Some day services returned to in-person delivery, while many continued to be delivered remotely or through hybrid delivery (a combination of remote and in-person attendance).
A total of 16,140 appointments for community-based care took place across our network of Dean Clinics in Dublin, Cork and Galway, which compares similarly to 2021. 85% of Dean Clinic apppointments were delivered through technology-enabled care.
The 2022 inspections by the Mental Health Commission of our three approved centres found full compliance in St Patrick's Hospital Lucan and Willow Grove. One standard from all rules, codes and regulations applicable to SPUH was found to be non-compliant. These excellent results reflect a record of compliance that we take great pride in.
Progress advanced on Your Portal, our online platform which empowers service users with access to their personal mental health record and information. Of note, an inpatient pilot project began in 2022 with the aim of enhancing how service users can contribute to and monitor their individual care plans.
During 2022, we underwent a mid-term assessment of the KeepWell Mark from IBEC, which is awarded to organisations who emphasize employee wellbeing. With over 700 clinical and non-clinical staff employed in our organisation, we were delighted that the mid-term assessment was very positive and recognised the importance placed on overall wellbeing and constructive management of employees.
Advocacy
Our advocacy function and our awareness-raising campaigns and initiatives, such as Walk in My Shoes (WIMS), aim to help build a society which protects the rights of people experiencing mental health difficulties and promotes positive mental wellbeing.
We responded to all relevant calls for submission and completed 19 consultations in various forms in 2022.
We held 27 events in 2022, providing opportunities for the public, schools, healthcare professionals, staff and service users to learn from leading experts in the mental health arena and to build connections with others. Among these events, 249 GPs registered to attend six webinars for GPs. These were presented by our clinical teams and covered topics such as psychological formulation and addiction; compassion-focused therapy; psychosis; depression; and more. Feedback was consistently high at 4.7 out of 5.
800 people responded to our annual Attitudes to Mental Health and Stigma Survey, which found that two-thirds of Irish adults believe that being treated for a mental health difficulty is still seen as a sign of personal failure by Irish society. The findings illustrated significant improvements over the last five years, but also highlighted the need for increased education and understanding around mental health to tackle persistent stigma.
We continued our collaboration with the Smart D8 initiative, which focuses on the health and wellbeing of the local community in Dublin 8. Smart D8 brings together partners from research and academia (Trinity College Dublin, the National College of Art and Design); healthcare (SPMHS, St James Hospital, Children's Health Ireland); the technology sector (the Tyndall Institute, Digital Hub, Guinness Enterprise Centre); and the community to promote health and wellbeing. In 2022, we began our participation in a Dublin City Council-wide pilot which has seen two technology-enabled beehives installed on our Dublin 8 campus, with educational sessions on beekeeping delivered to our service users.
WIMS celebrated its tenth anniversary in 2022. In this landmark year for the campaign, 124 students took part across five cycles of its Transition Year (TY) Programme, with over 90% saying the programme positively changed their understanding and perception of mental health. Its annual #MindYourSelfie Day focused on climate change and mental health, with a nature-based mental health resource for secondary schools and a nature mindfulness session for primary schools specially developed. In addition, the 2022 WIMS Live online programme of events, activities and curated content to mark World Mental Health Day in October explored the lived experience of mental health and how we can all improve our understanding. Each day of the week-long campaign saw a new short film and accompanying blog launched to learn more about different mental health difficulties. Combined, the films had over 17,000 views on YouTube by December.
Research
We strive to be at the forefront of new research in the field of mental health, while also supporting those committing to work in mental health to develop their competencies.
Members of our research teams were named as authors or co-authors on a total of 29 published papers, as well as a book chapter, while our researchers also presented at 19 external conferences.
We made significant progress on developing our Academic Institute, which, as one of the key pillars of our 2018 to 2022 strategy, Changing Minds. Changing Lives, aims to explore how best to deliver and improve mental health treatment and evidence-based practice. The steering group for the institute was established, made up not only of staff but also of service user and carer representatives. A Clinical Advisory Group was set up, while the new Programme Manager of the Academic Institute also commenced in post.
Significant work was undertaken to update the Standard Operating Procedures of our Research Ethics Committee (REC) and to formalise and recognise its place within the overall governance of our organisation.
A total of 23 studies either commenced or continued across multiple disciplines, and eight new studies were approved by the REC, including:
A qualitative study of service users' experiences of receiving a diagnosis of personality disorder
An exploration of cognitive behavioural therapists' perceptions of group cognitive behavioural therapy
Secondary analyses of anonymized data from four historical studies of electroconvulsive therapy (ECT).
Of note, the ECT research group, headed by Prof Declan McLoughlin, was cited as being ranked within the top 10 ECT research groups worldwide.
The Better Act than React project was completed in 2022, with the development of an app and accompanying curriculum materials . These were designed to help youth workers implement Acceptance and Commitment Therapy principles and tools into their own lives and the lives of the young people they work with.
Service user engagement
One of our priorities has always been about amplifying the service user voice and incorporating it into our plans as we develop and futureproof our service.
Our Service User and Supporters Council (SUAS) met 12 times through Micoroft Teams during 2022, with four new members joining. By the end of the year, our Service User Advisory Network (SUAN) had 125 members, including 13 new members. In addition, a new Family Member, Carer and Supporters (FCS) Advisory Network was established in June 2022, gaining 22 members.
Our Remote Care Advisory Forum continued to engage service users in the evaluation and use of innovative technologies, including the design and integration of Your Portal and the ongoing enhancement of remote services. Members also took part in research by Mental Health Reform on the digital divide in mental healthcare.
In July 2022, the Information Café, which is the non-clinical discharge information-sharing process, became incorporated into the Pillars of Wellness programme. Sessions are delivered by a panel of SUAS members and co-facilitated by our Service User Engagement Lead. Average attendance of these sessions rose from three to 20.
Three Consultative Forums took place to offer representatives of the Board and management the opportunity to consult with service users, including members of SUAS and SUAN. Two of these were held to get service user feedback on the organisational strategy consultation, and the third focused on the inpatient dining experience. There was a 20.3% increase in the number of service users who registered to attend these sessions compared to those held in 2021.
Two reviews of service user feedback through the Service User Experience Surveys were completed by the Service User Engagement Lead, which were shared with management and staff to help improve service delivery.
As part of our efforts to enhance service user participation, a consultancy organisation based in the United Kingdom was contracted in late 2022 to complete an independent evaluation of service user structures within SPMHS. A full report into the findings is expected in 2023, and a further five-year development plan for service user engagement and partnership will then be agreed based on recommendations of the report.
Download the reports
Annual Report
Outcomes Report