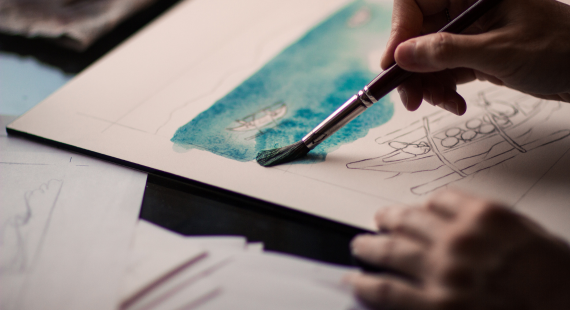 Voting has opened in the Favourite Painting competition from St Patrick's Mental Health Services (SPMHS).
Favourite Painting is a competition from our Art Committee here in SPMHS, which sees a number of artworks from some leading art galleries in Ireland exhibited in St Patrick's University Hospital (SPUH). Service users, visitors and staff are invited to view the exhibition and vote for their preferred artwork. The artwork which receives the highest number of votes is then added to our permanent art collection and put on display on our campus.
An exhibition of 14 paintings is now on display in the Arts Space of SPUH. The paintings on display include:
Being There by Geraldine O'Reilly Hynes (Doorway Gallery)
Blue Night by Patricia Burns (Taylor Galleries)
Dangerous Dublin by Shane Berkery (Molesworth Gallery)
Flooded Quay – Carrick by Bernadette Kiely (Taylor Galleries)
Gathering Mushrooms by Lucy Doyle (Doorway Gallery)
I Live by Kathy Tynan (Kevin Kavanagh Gallery)
Illumination by Russell Quinn (Doorway Gallery)
Mountainscape by Robert Armstrong (Kevin Kavanagh Gallery)
Psyche Becoming a Butterfly by Margaret Corcoran (Kevin Kavanagh Gallery)
Sea IV by Mary Lohan (Taylor Galleries)
Sea Mist by Mick O'Dea (Molesworth Gallery)
The Hot Seat by Catherine Barron (Molesworth Gallery)
Tremble and Preach by Gabhann Dunne (Molesworth Gallery)
Will You Ever by Gemma Browne (Kevin Kavanagh Gallery).
The exhibition is open to service users, visitors and staff of SPMHS, who can place their votes in the competition ballot box which is also in the Arts Space. Alternatively, the paintings can be seen below with online voting also available.
If you are placing a vote, you can be entered into a draw to win a €100 One4All voucher; just leave your name and email address to take part in the draw. Winners will be notified after the competition ends.
Voting will be open until 24 September, followed shortly by an awards ceremony to announce and celebrate the winner of the competition.
Please note that voting has now closed. You can still view the Favourite Painting exhibition below.
See the exhibition
You can view the paintings in the Favourite Painting exhibition below. Simply click on a painting to open the gallery, or use the icons underneath the gallery to move through the different artworks.