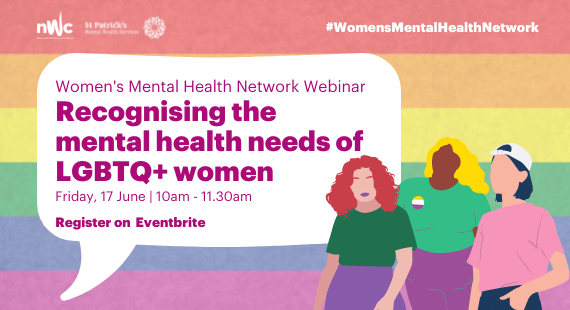 The Women's Mental Health Network is hosting a webinar to explore what mental healthcare fully inclusive to LGBT+ women might look like.
The webinar takes place on 17 June to mark Pride 2022. It will consider how mental health services and practitioners can improve awareness and responsiveness to the mental health needs of LGBT+ (lesbian, gay, bisexual, transgender, and other groups) women. It will also explore indications that LGBT+ people experience inequities both in accessing health services and within these services, as found in the LGBT Health survey from the Health Service Executive (HSE).
With Pride centred on celebrating LGBT+ life and culture, this webinar is a timely opportunity to mark the progress made in advancing LGBT+ rights to date. It will also raise awareness of where continued progress is needed to support LGBT+ women's right to the highest attainable standard of physical and mental health.
This event will look at the needs of LGBT+ women at different life stages and some of the mental health difficulties that may arise in different groups.
BeLonG To's School Climate Survey found that one in three LGBT+ school students reported that other students are not accepting of LGBT+ identities. The research highlighted how such negative experiences can impact on a sense of belonging, isolation, and academic goals, all of which can pose a significant threat to mental health and wellbeing.
According to TENI's Speaking from the Margins report, transgender people are at substantially higher risk of negative mental health than the general population over the course of their lifetimes. Stress (83%), depression (82%) and anxiety (73%) were most common. 69% of those surveyed who accessed mental health services reported at least one negative experience in doing so. Only 27% felt able to be completely open with mental health professionals about being trans or having a trans history.
The Visible Lives report into experiences and needs of older LGBT+ people in Ireland found that 54% of older LGBT+ people felt like part of their local community. Only 50% felt like part of the LGBT+ community, with 31% feeling lonelier as they age. 26% were not out to any of their healthcare providers, often because of fears of a negative reaction to their LGBT identity. Only 43% felt respected as an LGBT+ person by healthcare providers.
A number of expert speakers will explore some of these issues:
Paula Fagan, Chief Executive Officer (CEO) of LGBT Ireland, a national support service for LGBT people and their families and friends
Moninne Griffith, CEO of BeLonG To, the national organisation supporting lesbian, gay, bisexual, transgender and intersex young people in Ireland
Lilith Ferreyra-Carroll, National Community Development Officer for TENI. the Transgender Equality Network Ireland.
The webinar is held by the Women's Mental Health Network, a network of people interested in women's mental health issues which is run in partnerhship by St Patrick's Mental Health Services (SPMHS) and the National Women's Council (NWC).
Speaking ahead of the event, Linda Curran, event chair and Social Work Team Leader here at SPMHS, said:
"There has been much progress made on LGBT+ equality in recent years. However, prejudice and harassment can continue to lead to poor mental health and wellbeing. LGBT+ friendly spaces remain crucial for maintaining positive mental health and building minority resilience in healthcare settings.
"While Pride is an important time of celebration of the LGBT+ community, it is important to remember that allyship is not just for Pride but needs to be something we work on within the mental health sector all year round."
Paula Fagan of LGBT Ireland said, "Older LGBT+ women can face double invisibility. Often their LGBT+ identity is invisible to those who are close to them, including healthcare providers, while they also experience the invisibility experienced by older people generally. This can lead to significant loneliness and isolation, which can have serious consequences for their mental health. Mental health services need to be sensitive and equipped to meet the specific needs of older LGBT+ women and we are delighted to be participating in this event focused on enhancing LGBT+ inclusive care in mental health services."
Fay White, Women's Health Officer with the NWC, said: "Like all women, women in the LGBT+ community need mental health services in which they feel respected and safe. Experiences of loneliness, lack of acceptance and prejudice can impact mental health needs, as well as access to services. LGBT+ women are not a homogenous group and have intersecting needs based on their race, class and life experiences, such as caring responsibilities or experiences of domestic and sexual violence."
"It is essential that mental health services are inclusive and responsive to the diverse needs of LGBT+ women."
Press and media enquiries
For media queries or a copy of the press release for this webinar, please contact our Communications team below.