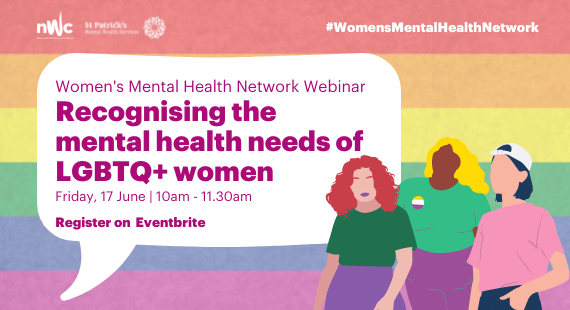 The Women's Mental Health Network (WMHN) is proud to explore the diverse mental health needs of LGBTQ+ women in support of Pride 2022.
The WMHN is hosting a webinar to explore LGBTQ+ women's mental health needs at different life stages, and the ways mental health services and practitioners can improve awareness and responsiveness to the needs of LGBTQ+ women. It is hoped that the webinar provides a platform to discuss how mental health services can better meet the needs of women in the LGBTQ+ community and what fully inclusive mental healthcare might look like. 
The webinar takes place from 10.30am to 11.30am on Friday, 17 June 2022.
The following expert speakers will join the webinar:
Paula Fagan, Chief Executive Officer (CEO) of LGBT Ireland, a national support service for Lesbian, Gay, Bisexual, and Transgender people and their families and friends
Moninne Griffith, CEO of BeLonGTo, the national organisation supporting lesbian, gay, bisexual, transgender, and intersex (LGBTI+) young people in Ireland
Keeva Lilith Ferreyra-Carroll, National Community Development Officer for the Transgender Equality Network Ireland, TENI.
The WMHN is a network of people and organisations who share an interest in women's mental health issues, developed and coordinated by the National Women's Council (NWC) and St Patrick's Mental Health Services. 
Registration for this event is free, and you do not need to be a member of the WMHN to attend.
If you have any accessibility requirements, please contact Susan McCormack, Disability Access Officer at the NWC at susanmcc@nwci.ie.