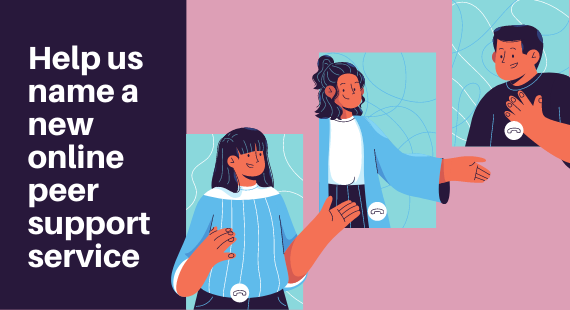 A competition to find the perfect name for our upcoming online peer-to-peer support service launches today.
This new service, beginning in January 2021, is being developed by our Service Users and Supporters Council (SUAS) as an online space where people who have a shared experience of mental ill-health can support one another.
Naming the service
Run by and for people who have gone through mental health difficulties, SUAS is running a competition to come up with a name for the new service, with entries being accepted until 5pm on Monday, 30 November. The name will be chosen from all entries by the Online Peer Support Steering Committee, which is made up of current and former service users of St Patrick's Mental Health Services (SPMHS), with a €100 One4All voucher to be won by the person who suggests the selected name.
It is hoped that the chosen name will reflect the peer support nature of the service, which shapes it to be a safe, supportive place to join in a coffee and a chat with some friends. SUAS also feels it's important that the name comes from people who would be interested in using the service so that it is relevant and meaningful to their perspectives and experiences also.
SUAS is establishing the online peer support service to ease the sense of isolation many people are feeling as we move through the various stages and restrictions of the COVID-19 pandemic. The pilot phase launches in January for people who have previously attended SPMHS, with hopes to extend this nationally for anyone who feels they would benefit from this kind of peer support if this pilot goes well.
To get involved in naming the service and be in to win this €100 voucher, simply send us your idea for a name by completing the entry form at the end of this page. Please read the competition terms and conditions, below, in advance.
If you have any queries about the new service or the competition, please email our Service User Engagement Coordinator, Siobhan Fitzharris, at sfitzharris@stpatsmail.com.
Competition rules
The following terms and conditions relate specifically to the competition to name the new online peer support service, which is being promoted by SUAS, known from here on as "the promoter".
Terms and Conditions

The competition is open to all adults, aged 18 years or older.
Entrants are required to submit their proposed name for the new online peer support service, their own name, and a valid email address for the purpose of contacting the winner, and can include a brief description of the name if they so wish.
Entrants may enter more than once but no more than five different name suggestions will be accepted from the same entrant and/or email address. All entries must be received by 5pm on 7 December.
A winner will be selected by the Online Peer Support Steering Committee.
The prize is a €100 One4All voucher. The prize is non-transferable and will only be awarded to the winner. No cash alternative will be awarded in lieu of the stated prize. The promoter reserves the right to change prize details without notice.
The winner will be contacted by the committee using the email provided by the entrant.
The winner will announced on 7 December, with their name being shared on SPMHS social media channels.
In the case where the proposals submitted are not deemed to sufficiently represent the new service, the closest fit will still be selected as the winner; however, the winner's suggestion may not end up being used as the service's new name. Declaring a winner does not automatically equate to use of the name for the service. The new name will require majority approval from the steering committee.
The promoter's decision is final and no correspondence will be entered into. In the event of any dispute regarding the rules, conduct or results of the competition, the decision of the promoter will remain final.
Acceptance of the prize constitutes permission to use the winner's suggested name for the new peer support service for purposes of identifying the service, advertising, promotion or publicity in any media without additional compensation.
The promoter reserves the right to cancel, terminate, modify or suspend the competition, to restrict its availability, and/or to vary competition rules at any time without prior notice.

Privacy Notice
Find out more about SUAS and the peer support service