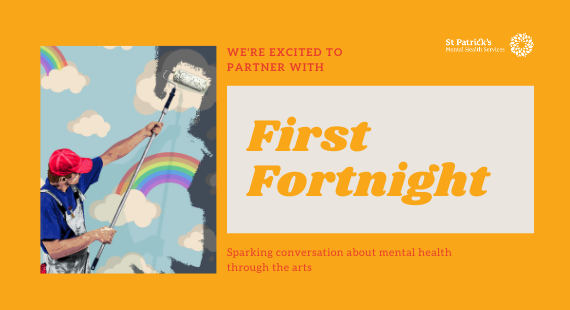 St Patrick's Mental Health Services (SPMHS) is looking forward to hosting three events in January 2021 for the tenth edition of the First Fortnight mental health arts and culture festival.
Beginning from 2 January, the festival will see over 70 events taking place over the course of the month, and aims to kickstart a brighter 2021 for everyone.
We are delighted to be included in the 2021 festival programme, with our three events including:
Due to COVID-19 precautions, these events will take place online; booking is now open through the First Fortnight website, with registration essential for all events.  
Inspiring hope and sparking conversations
Speaking about the festival programme, Tamara Nolan, our Head of Communications and Advocacy, said: "Since 2015, SPMHS has been proud to partner with First Fortnight to host events that encourage positive mental health, tackle stigma and help to change attitudes towards mental health. While we have had to adapt our events to go online for the 2021 festival, as always, this year's schedule will bring a diverse mix of arts and culture, all the while inspiring hope and sparking important conversations about mental health."
"We look forward to working with First Fortnight again this year, ensuring that mental health promotion, advocacy and awareness-raising events remain a priority as we continue to face the challenges of the COVID-19 pandemic and its effects on wellbeing."
Edel Doran, First Fortnight Programme Coordinator, said: "2020 has been a year when we have been told to lock ourselves away from other people, to not see our friends and family and, in some cases, to isolate. There has, of course, been reason for this, but the effect has left us lonely, isolated and vulnerable. This is something many people experience when they have a mental health difficulty they feel they can't share. They feel powerless. When we challenge mental health stigma, we help create a society that is there to help and to listen to mental health discussion. The arts are a powerful tool for this; the nation turned to the arts during this difficult time for a source of entertainment, escapism or enjoyment… We invite you to actively participate in the arts festival this year, join our community and power the change for mental health."
Tags: First Fortnight advocacy Arts
Find out more about our First Fortnight events
The full First Fortnight programme can now be viewed or downloaded from the festival website. Please note that, if you register to attend an event, you will be issued with a link to access it ahead of the show day.