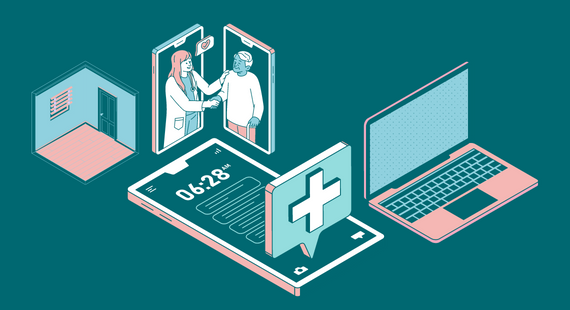 At St Patrick's Mental Health Services (SPMHS), we are hosting a conference on the role of technology in mental healthcare.
Taking place online from 9am on Friday, 10 March 2023, the Remote Care Conference: A New Era in Mental Healthcare Delivery will offer attendees an insight into the role of enabling technology to deliver choice, empowerment and efficiency in mental health service delivery.
The conference will consider the use of effective remote care delivery. It will look at our Homecare service; and explore the use of an online service user portal to underpin a human rights-based approach to mental healthcare by providing service users with access to their information. Considerations around cybersecurity and privacy in the context of remote care will also be discussed, along with future trends in mental health and remote care.
This will be of interest to general practitioners (GPs); referring clinicians; mental health service managers; technologists working in mental healthcare; voluntary and community organisations working in mental health; and students. 
Speakers and agenda
Speakers at the conference include:
Professor Paul Fearon, our Medical Director 
Krystian Fikert, Chief Executive Officer (CEO) and founder of MyMind, Ireland's first and largest blended model of mental healthcare
Lochlann Scott, CEO of Helplink, which provides accessible, free or low-cost mental health services
Orla Gogarty, our Director of Digital Health and Transformation, who leads the team that implemented Ireland's first integrated electronic mental health record, eSwift, and service user portal, Your Portal.
Other speakers include:
Frankie Prendergast, our Digital Health Applications Programme Manager
Ronan Devins, our Chief Information Security Officer
John Woods, our Data Protection Officer.
Our CEO, Paul Gilligan, will also give an opening address.
More details and a full schedule for the conference are available now in the programme.
Download the conference programme here.
Continuing Professional Development (CPD)
The Remote Care Conference is an important opportunity for CPD.
The Irish Association of Counsellors and Psychotherapists (IACP), Psychological Society of Ireland (PSI) and Irish College of General Practitioners (ICGP) have recognised the conference for four CPD points each.
Please note that CPD points are only available for those attending the live conference.
Registration
Registration for this conference, which will take place online, is essential.
Tickets to the conference cost €50 per person. Proceeds raised through the conference will go towards Walk in My Shoes, our flagship mental health awareness-raising and education campaign.
If you have any accessibility requirements or have any queries about this conference, please email communications@stpatsmail.com or call +353 1 249 3396.