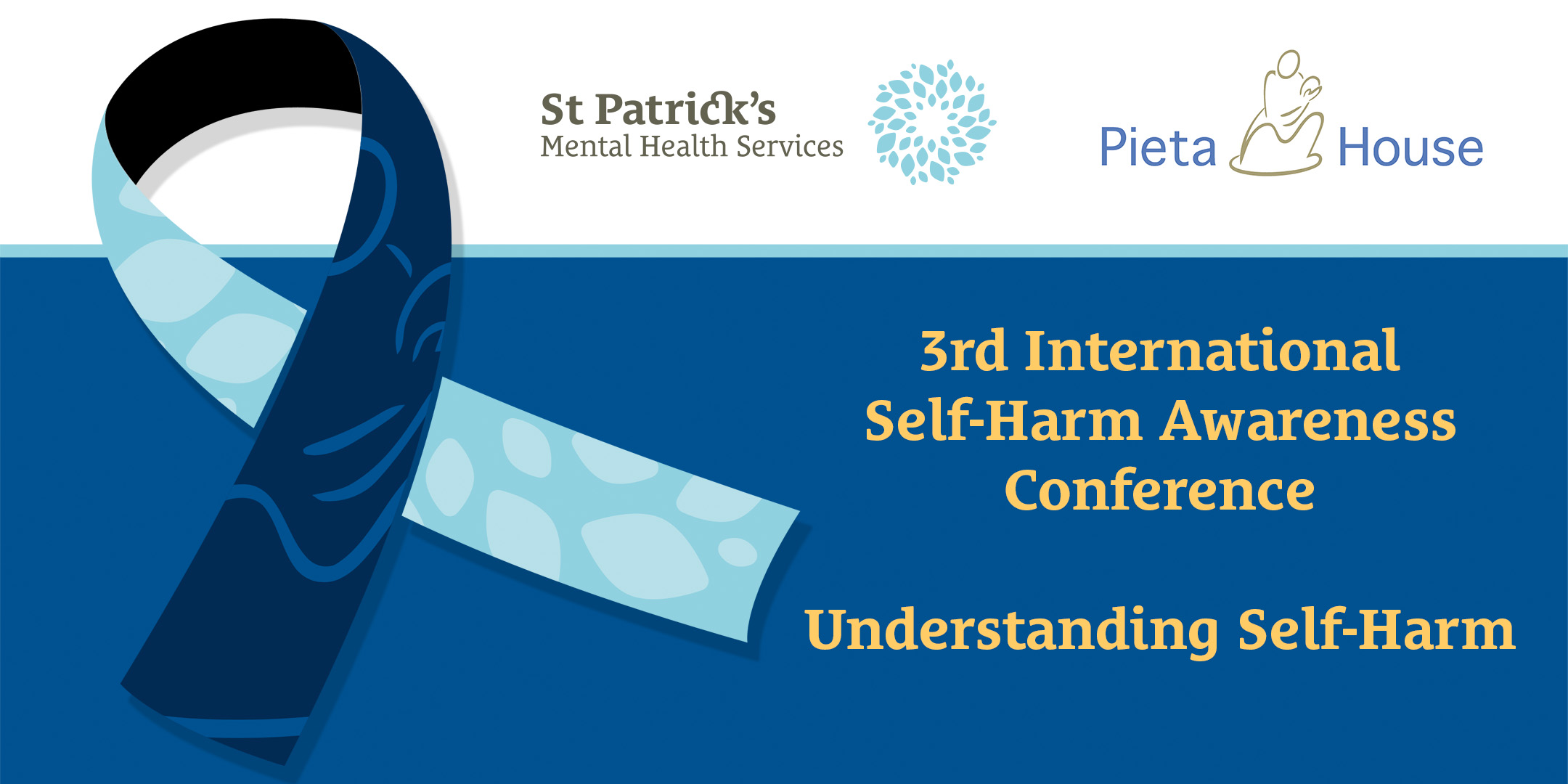 Understanding Self-Harm
Due to the severe weather that is forecast for the coming days, and for the safety of our delegates and speakers, St Patrick's Mental Health Services and Pieta House have made the decision to postpone Thursday's Self-Harm Awareness Conference. The conference will now take place on March 15th, and all ticket holders will be contacted by email.
St Patrick's Mental Health Services and Pieta House are holding their third Self-Harm Awareness Conference on 15th March 2018 (Self-Injury Awareness Day) at the AVIVA stadium.
This year's conference is aimed at healthcare professionals, social care and education providers, as well as parents, carers, policy makers and influencers. The theme of the conference is 'understanding self-harm'.
A recent study by Long (2018) examined the negative impact felt when self-harm is misunderstood. It was found that the stigma associated with self-harm both at a cultural and media level, can greatly influence a young person's self-perception, increasing their self-harming behaviour and reducing the likelihood that they will seek the necessary help.
The same study also found that those who work with people who engage in self-harm may be driven by fear and the need to act quickly, which may not get to the heart of the issues that clients are facing (Long, 2018*). Such studies highlight the need to better understand and destigmatize self-harm.
As part of the conference, three workshops focusing on three specific themes about understanding self-harm will be held. These will be held in parallel sessions and there will also be soapbox groups, whereby attendees will be able to share their thoughts about self-harm and any issues/discussions raised during the day. Attendees can register for the workshops during registration on the day.
The conference has been approved for 4.5 CPD, 0.5 GMS Study Leave and 4 learning credits from PSI.
Standard ticket price is €50 and there is a discount for students and unwaged of €25. 
Fee includes access to all sessions and workshops, lunch and refreshment breaks.
*Maggie Long (2018) 'We're not monsters … we're just really sad sometimes:' hidden self-injury, stigma and help-seeking, Health Sociology Review, 27:1, 89-103, DOI: 10.1080/14461242.2017.13758
Timetable for the conference (draft)

8.15-9am: Registration

9-9.20am: Welcome from Paul Gilligan, CEO, St Patrick's Mental Health Services and Brian Higgins, CEO, Pieta House

9.20-10am: Keynote speech from Eoghan McDermott, television and radio presenter.

10am: Tea and coffee break

10.30 am-12.15pm: Panel presentations and roundtable discussion:

Self-Harm: Enhancing our understanding and first steps to respond

Richard Booth, Head of Psychology, St Patrick's Mental Health Services
Dylan Moore, Senior Counselling Psychologist, St Patrick's Mental Health Services
Lorna Power, Clinical Psychologist, St Patrick's Mental Health Services

12.15-1.15pm: Lunch

1.15-2.15pm: Workshops: 

Workshop Session 1 (1.15pm): Three x 30-minute workshops and one x 30-minute soapbox running concurrently 

Workshop Session 2 (1.45pm): Three x 30-minute workshops and one x 30-minute soapbox running concurrently 

 The themes of the workshops are:

"Exposing the secret - from guilt to acceptance" and will be run by Jenny Groves, founder of UK support group, Battle Scars.
"Young people and self-harm" will be run by Marguerite Kiely, Pieta House Clinical Director of Child and Adolescent Services
"Self Care for those impacted by self-harm" will be run by Pauline Bergin, Pieta House Senior Therapist

2.15 – 3pm Closing Session: Panel Discussion
Chaired by RTE Radio's Shay Byrne

Panellists:

Dylan Moore,

Senior Counselling Psychologist, St Patrick's Mental Health Services

Marguerite Kiely, 

Pieta House Clinical Director of Child and Adolescent Service

How to get there

The Aviva Stadium is accessible by a selection of public transport routes including a DART stop right at the Stadium. Should you need to drive, they do provide limited first come first serve parking for events attendees only.

Delegates arriving by car can park in the West Ground Car Park and access the escalator to the registration area in the Atrium.  Parking is free of charge however please note that spaces are limited to 100.  Further parking is available in the Main Stadium Car Park at €2 per hour.  From here, follow signs to Stairwell 42 to get to the registration area.

If you are travelling by public transport or walking to the venue, please follow the signs to Stairwell 42 which will lead you directly to the registration area. Please see map here (insert map)

For guests with mobility issues there is an escalator from the West Ground car park up to the registration area.

For guests in wheelchairs please park in the main Stadium Car Park and then access the Stadium via Entrance A on Lansdowne Road – the Aviva receptionist will then direct you to the registration area