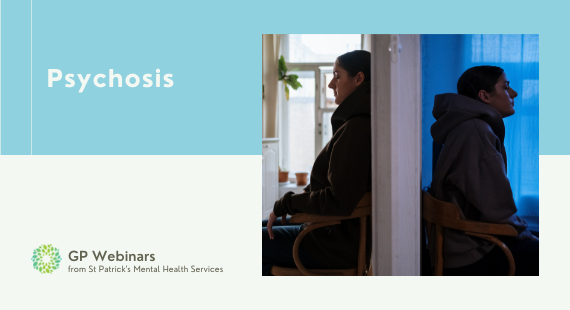 The next event in the GP Webinar Series from St Patrick's Mental Health Services (SPMHS) will focus on psychosis.
GPs and healthcare professionals are invited to join this free webinar, which takes place on Tuesday, 20 September 2022 from 7.30pm to 8.30pm.
Dr Seamus O'Ceallaigh will lead this webinar, exploring the topic of psychosis and how GPs can treat and support their patients living with psychosis.
This one-hour webinar will update GPs on:
Engagement in psychosis
Early intervention and improved outcomes
Assessing and managing risk and comorbid factors
Improving whole health outcomes in psychosis
Pharmacological strategies for psychosis management
CBT for psychosis
Accessing specialist care
GPs can submit their questions in advance by emailing communications@stpatsmail.com or during the webinar using the Q&A function on Zoom.
Continuous Professional Development (CPD)
CPD will be sought for this event. Points available will be confirmed closer to the time of the event.
Series background
The GP Webinar Series covers many mental health topics from a perspective which aims to apply to and support GPs and healthcare professionals in their everyday practice. Each webinar gives an opportunity to interact with and ask questions of our mental health teams.
If you have any queries about the series, please email communications@stpatsmail.com. You can also sign up to our digital mailing list for GPs to get updates on the next events in the series.