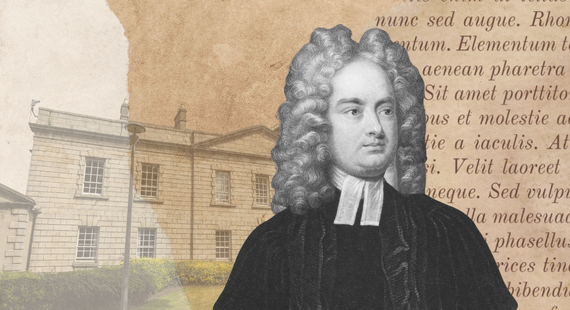 St Patrick's Mental Health Services (SPMHS) invites you to a celebration of our founder, Jonathan Swift, to mark Culture Night 2022.
On Friday, 23 September, you will have the chance to visit the Boardroom in the historic building in our St Patrick's University Hospital (SPUH) campus, and view a unique exhibition of Jonathan Swift's personal belongings and historical artefacts, including his own writing desk. Historian and archivist at SPUH, Andrew Whiteside, will present these artefacts and talk through Swift's life and legacy during this interactive evening.
There will be two sessions taking place with 15 places available at each. The first session takes place from 6pm to 7pm and the second session takes place from 7.30pm to 8.30pm. Each session will begin with the screening of a short video outlining Swift's life, before exploring Swift's legacy in more detail in the historic Boardroom. 
Renowned around the world as a satirist, Dean of St Patrick's Cathedral, author of Gulliver's Travels and more, Jonathan Swift's vision of a "home for fools and mad", his generosity and his forward thinking left an impact on mental healthcare in Ireland.
Swift once acted as governor of the infamous Bedlam asylum in London, which led him to understand that people experiencing mental health difficulties required specialist care and treatment, as well as, crucially, a voice and representation. He left a legacy in his will which, one year after his death, in 1746, saw the foundation of St Patrick's Hospital –  the first mental health hospital to be built in Ireland, as well as one of the very first in the world. 
This Culture Night, we are delighted to explore our unique ties to Swift and his ongoing legacy in empowering people in Ireland to lead mentally healthy lives. Tickets are free, but must be booked in advance.
If you have any queries about this event, or if you are booking to attend and have any accessibility requirements, please email communications@stpatsmail.com.